Yes, I browsed through pages of gay porn just to verify that Dakota Cochrane, one of the thirty-two fighters competing on The Ultimate Fighter Live (TUF 15) is also a gay porn star. I did this for all of you, and it was brutal. I live in Hollywood, California. There's nothing wrong with homosexuality. In fact, I voted no on Prop 8, the California legislation that sought to ban same-sex marriage. Everyday I go to the gym on Sunset boulevard, I'm drowning in gayness and transsexuals. It's just the way of life out here.
However, I dare any straight guy to analytically look at gay porn for the sole purpose of finding identifying marks to determine if a gay porn start is also an MMA fighter. Hell, I dare any straight guy just to look at gay porn. It's mentally confusing. You don't expect body parts to contort in that manner. It's too much. I really need to get a girlfriend or something because I think my eyes were just traumatized. If you're an above-average to mildly attractive female living in the Los Angeles area that can help me get over staring at gay porn for hours, then I may need your assistance.
Alright, on to the gayness.
Some of you may remember Dakota Cochrane from the beastly performance he put on against Jamie Varner last year at Titan Fighting Championships 20. He grabbed a convincing unanimous decision over the former WEC champion, which earned him a slot on The Ultimate Fighter Live premiering March 9th on FX. There's also a guy that goes by the name of 'Danny' in the gay porn world, and from what I've been told by my neighbors, 'he's as impressive in bed as he is in the ring.' I'm not even making this up, guys. If you turn off 'Safe Search' and Google 'Danny,' you will get an influx of pictures that are definitely NSFW.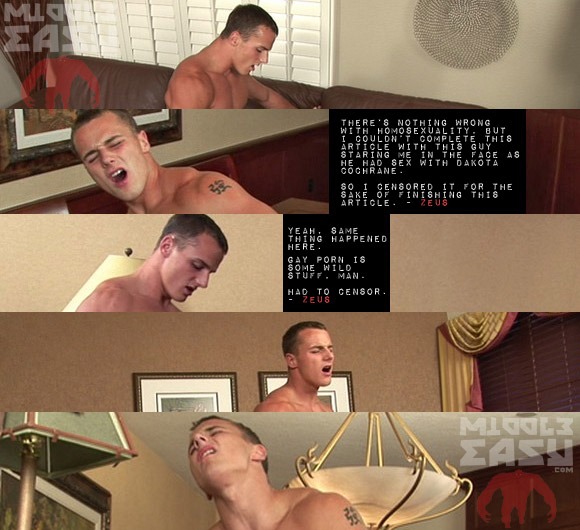 If you're still questioning if Dakota Cochrane is indeed 'Danny,' check out this picture from Victory Fighting Championship.
Notice the same left arm tattoo in both pictures. That's him, or an incredibly accurate imposter.
The most important that you must realize is Dakota Cochrane is a bad ass fighter. Let's forget the absolute mauling Dakota placed on Jamie Varner. The fact that Dakota Cochrane has done gay porn should not deter you from watching his progression through TUF 15 next month. Not at all. In fact, we as a MMA community should embrace a current/former gay porn star into MMA. It's time to expand the fanbase of this sport that we all love.
We need a guy like Dakota Cochrane in this sport. It's time for a paradigm shift.