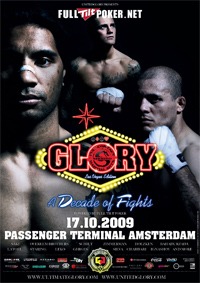 Glory 11 went down in the middle of the day Saturday and wrapped up nearly 6 hours later. If you were cutting your grass or sleeping on your friend's sofa in agonizing pain while you recovered from your hangover then chances are you probably missed it. So here is my Sunday gift to you. Today I will give the gift of summary to you. Sunday is the day in which I will summarize Glory 11. Today is the Sunday in which you will read…alright.
It all started off with a couple of guys playing poker in the ring, which later were replaced with four really hot chicks in green feathers dancing around. I don't know how or when the switch happened but when it did, Bas Rutten said he was going to complain to the organizers of Glory 11 for not having enough girls in bikinis (dude also said he wanted topless ring card girls for the main event). Fight went down, don't really remember it…but it was followed by the only women's bout on the card which, goes without saying, was the most exciting fight of the night. Krista Fleming and Titiana Van Polanen banged for five rounds the only way two hot chicks could bang against each other…with low kicks and swift take-downs (I just tripped over your mind, it was in the gutter). The fight shifted throughout and Titiana Van Polanen eventually grabbed the W. We were then presented with a 30 minute long intermission with a chick singing James Brown surrounded by like a harem of really hot dancers. Amsterdam knows how to rock it. Serve a little bit of MMA and offer hot Dutch chicks as a chaser. But lets skip to the fight that you really wanted to see (not the Anderson Silva fight, he TKOd Stefan Leko in the second), Alistair Overeem.
Before Alistair actually fought, older brother Valentijn Overeem got in the ring, threw a couple of punches…and then the fight was stopped in 20 seconds. Valentijn somehow broke his nose and when the fight ended, he got on the mic and told the audience he suffered from back problems and could no longer continue. Yeah, we thought it didn't make any sense either. Eventually we got to see Alistair Overeem hop in the ring with a guy that works the cash register at a glass bong shop. His name was Tim Sylvester and Bas Rutten pretty much summed it up by saying 'This guy doesn't want to be in there'. Sylvester seems like a pretty chill guy, but the dude was in there with the Strikeforce Heavyweight Champion. Alistair guillotined Timmy in 1:19 and the five hour build-up that we patiently sat near our computers for was eventually drenched in anti-climatic sauce and abruptly consumed. Oh, Semmy Schilt beat Alexey Ignashov and got a wristwatch.