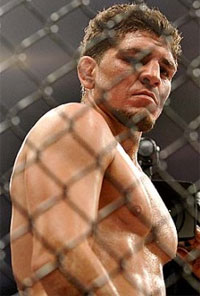 So if Gilbert Melendez turned Japan into an American colony by defeating Shinya Aoki, then does Nick Diaz's submission win over Mach Sakurai give us all complimentary time shares off the coast of Osaka? I'm not sure how that works or who to contact if I want to redeem my voucher to visit the 51st state of America. In fact, I wouldn't be against changing Japan's name to something a little bit more westernized like 'Japanfornia' or 'Japanexico'. Leave the passports at home folks, after Dream 14, it's all ours. We no longer have to wait extended periods of time for the new version of Dance Dance Revolution.
We all have to give it up to Mach. Dude was more game than any opponent Nick Diaz fought in the past two years. Mach managed to deck Diaz with an overhand right that may have even rocked Nick. We're not sure as he quickly clinched with Sakurai shortly after the blow landed but I can assure you that threads on MMA message boards will pop up with the words 'Nick+Diaz+Exposed' in the title. I thought Nick Diaz managed to keep his composure throughout the fight but to be honest, I was still in reeling in awe over the fact that Ralek Gracie became the first Gracie to defeat Sakuraba.
Maybe Diaz is right. Perhaps he could defeat GSP. Sakurai took Diaz down with a powerful double-leg and within seconds of being on his back, Nick had Mach in a tight armbar that eventually finished the fight. Unfortunately, we will never know since UFC hasn't quite grasped on to the whole 'co-promotion' thing. Bummer.