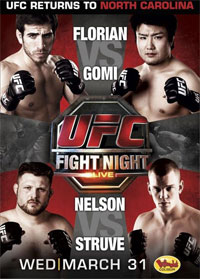 We all just watched an event inside a place named after a fried chicken fast-food restaurant. Only in North Carolina. Actually, North Carolina is a good place to go if you want to commit suicide via sheer boredom. When I lived there, the highlight of everyone's Saturday was their weekly visit to Wal-Mart. Note to everyone: If Wal-Mart is the heart of your social scene, then your life is pretty much over. You know those guys on the side of the street in Grand Theft Auto? Those pedestrians that scream ignorant stuff and rob people in front of cops only to run in the street and get hit by a delivery truck moments later? Yeah, all those people are inside Wal-Mart at about 4am. Check it out for yourself if you don't believe me.
When's the last time the electricity was sporadically shut off right in the middle of a UFC event? See, that's what I'm talking about people. North Carolina is the state civilization has forgotten about long ago in some episode of Jerry Springer.
Ross Pearson ignited the televised portion of the card by attaching his laser-guided scope to his wrists and just sniping Dennis Silver at will. In fact, the dude never lost a round but just couldn't pack enough bangemite in his fists to finish the fight. The only guy to ever KO Silver is someone that looks like the offspring Simon Phoenix, I'll let you guys figure that one out (Here's a hint, he has 'Young' and 'Ass' in his nickname). Next fight was Jorge Rivera vs. Nate Quarry. Jorge chose to go on a 3-0 fight tear at the age of 38 and served Quarry a TKO early in the second round. The MMA world will now forever be cursed with horrible headlines like "Jorge chips the rock" or "The rock explodes by the hands of Rivera". Just wait till next weekend. Don't be surprised if you see "The Prodigy answers Frankie's question".
Up next was Roy Nelson vs. Stefan Struve. Unfortunately, ZUFFA missed out on their opportunity to do the 'Big and Tall Men's Store' tie-in but I'm sure their marketing department is swamped with ways to incorporate the movie 'Kick-Ass' in a UFC fight (Wow, those guys are going to have a hard time). Let's be honest, Roy Nelson looked like a hand-me-down Lego guy with a mullet in the octagon tonight next to Struve. It looked like The Lollipop Guild opened up a gym and only accepted dude's with long hair and overly large bellies. With just one overhand right, Roy Nelson knocked out Struve. Thirteen seconds later, his body finished collapsing to the ground. In Big Country's post-fight interview, dude called out James Toney who was probably at home mastering the side-check kick (Hey, it's raw people. Just you wait).
The main event featured The Fireball Kid vs. Ken-Flo. Gomi wins the award for greatest nickname, but loses just about everything else tonight. Kenny Florian systematically picked apart Takanori Gomi with just about every strike imaginable. At the end of the second round, Gomi took a wild swing at the air just to show everyone that if someone was there, they would have been KTFO. Unfortunately, no one was there. Just a camera that filmed a clip that will forever be posted as an animated gif on MMA message boards. Florian eventually took Gomi to the ground in the third and submitted Takanori with a rear naked choke. That was it folks. UFC Fight Night 21 wrapped up in a twisted nutshell. It's cool everyone, look on the bright side. TUF 11 is officially on the rotisserie. Time to say goodbye to your Wednesday nights.