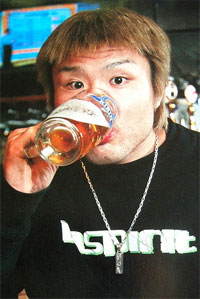 Any guy that goes by the 'Fireball Kid' is worth jumping up and down and knocking over a few plants in your living room. With every ounce of amazing loaded in his right fist, Gomi caught Tyson Griffin with a right hook that undoubtedly was fueled by metachlorines.
In only 1:04, the fight was over and if you're reading this on Monday morning, there's a good chance Tyson Griffin still has not shook Gomi's hand after the fight. When the bout was over, Takanori literally chased down Griffin to give him props for stepping up but Tyson Griffin refused to shake Gomi's hand or even acknowledge that he was in the cage. Instead, Griffin just circled around the octagon, Houston Alexander style.
Even though Pride FC is six-feet under, Gomi still holds the Pride FC belt (which he probably places alongside all the necks he's collected in his career). In his post-fight interview, Gomi stated that his only goal was to collect yet another belt in the 155lb division. Props to the Fireball kid on his win and giving the MMA world a stern reminder why he's named after a friggin fictional move on Street Fighter 2.
And because it was just that awesome, here's the gif that you knew was coming. Definition of a windup right-hook. Amazing.