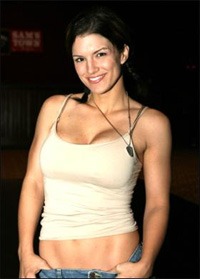 Ok so I think it's fair to say that we've all fantazied about being in a bubble filled tub with Gina Carano as she mounted in north south posi…what? I thought I was making an entry in my Doogie Howser diary (dude was the first blogger, think about it). Gina Carano is friggin hot. she's like the Fire Ring in Captain Planet, there was never a time in which it wasnt ridiculously sick (unlike 'heart', what a lame excuse for a cartoon superpower). Carano is like the (hot) face of female MMA. She put it on the map in the mainstream and still to this day she's undefeated (watch out Cyborg).
Now you can fulfill all your sick little dreams and buy Gina Carano. Yeah, you can purchase Gina Carano and do whatever you want to her. Wait, misread the article. It's a figurine of Gina Carano. Ah what let down…is it lifesiz…aah damn, no its not. Well Round 5 has just created a Gina Carano figurine and its ready to rock and roll off production line and into your sock drawer hidden away from your girlfriend (according to my ex, that is cheating). Gina Carano, the entire MMA world loves you and mini figurine Gina Carano, we'll love you too…but its only mini love. The type of love only an ewok can appreciate. Read more here.
Join our list
Subscribe to our mailing list and get interesting stuff and updates to your email inbox.