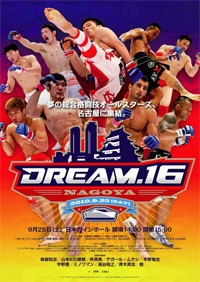 Whenever you can wake up knowing that you will undoubtedly pull an all-nighter just to watch some of the finest Japanese MMA this planet has to offer, it's a beautiful thing. The fact that we've reached sixteen of these events is incredible in itself. When Pride collapsed, everyone simultaneously cheered when FEG decided to shove a megaton bomb under the MMA world with Yarennoka! on New Year's Eve in 2007. Yarennoka! was billed as a farewell show to all Pride fans. Granted, Yarennoka! was more of a one time event and less of an actual organization but when everything was being assembled, the entire MMA world truly thought that Yarennoka! would be the substitute teacher equivalent of Pride FC. Yarennoka pulled a record attendance of over 27,000 and gave the MMA community one of the most photoshopped pictures on the internet: The Fedor Armbar over Hong Man Choi (which has been replicated and posted on every MMA message board out there). It was an absolute success, such a success in fact that the former Pride executives and FEG held hands and jumped into a think tank. When they eventually hopped out, Dream was their cute little offspring.
Here we are, thirty months from the very first Dream event and FEG is still operational. It's an amazing feat and without the energy generated from the colors emanating off Shinya Aoki's pants, it never would have happened. There's probably one thing you didn't know about tonight: a title is on the line.
The Dream Light Heavyweight Grand Prix comes to a close tonight when Gegard Mousasi will meet up with Tatsuya Mizuno and someone will walk away from the Nippon Gaishi Hall with a shiny belt that doesn't go with anything they have in their closet. Sakuraba vs. Mayhem precedes the main event along with Shinya Aoki vs. Marcus Aurelio, Minowaman vs. Satoshi Ishii, Takaya vs. Chase Beebe, Omigawa vs. Cole Escovedo, Tokoro vs. Joachim Hansen, Little Hercules vs. Takeshi Inoue, Wicky vs. Ishida and Yusuke Kawaguchi vs. James Thompson. Everyone of those fights are highlighted because I screamed out as I typed each one.
It all comes on tonight/morning on HDNet so stock up on your energy drinks, caffeine pills and whatever substance you use to stay up at night (or in the daytime). If this is your first time experiencing a Dream event, my suggestion would be to tune-in early for a lavish intro and find something to do for at least thirty minutes during the intermission. The Dream intermission has collected many heads on pillows, followed by an abrupt 'No!' screamed in an apartment when that person finally wakes up. Don't be a statistic.