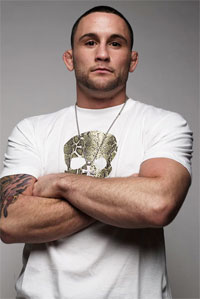 Frankie Edgar is the greatest lightweight in mixed martial arts. Let that sink in for a bit, I'll be over here explaining how humanity was derived from taro root.
UFC 112 wasn't a fluke nor was it the result of a poor decision by the judges. Frankie Edgar proved that he is a better fighter than BJ Penn, twice. It's a lot to ingest at this point in the night and you may cling onto the brim of a toilet and regurgitate it later tonight, but Frankie Edgar is the best lightweight in MMA. We all just need to accept this fact as part of our lives.
In every aspect of tonight's title fight, Frankie Edgar outclassed BJ Penn. Nullifying takedowns, countering punches, even submission defense. It's as if you discovered the tooth fairy was just a means for your parents to put dollar bills under your pillow while you slept. I'm pretty sure BJ Penn could slap my mother and I would still be on the BJ Penn bandwagon. This will never change. However, Frankie Edgar is an unstoppable force at 155lbs.
With tonight's win, Frankie Edgar will step in the octagon with the only guy to hand him a defeat; I'm not sure who will win, but I can assure you that it will go to a decision. Props to Frankie Edgar on reassuring the world why he is the most dominant 155lber out there. Now I'll let all of you speculate what's next for BJ Penn…