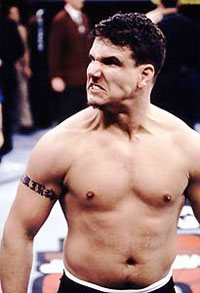 Just as I was about to slam my head into my pillow for the night, Mike Chippetta decided to dangle some MMA news over our heads and teabag us with the announcement that Frank Mir vs. Shane Carwin is slated for UFC 111 and it will be for the UFC interim heavyweight belt.
With UFC heavyweight champion Brock Lesnar still indefinitely on the shelf, the organization is moving swiftly to create an interim championship.

And fresh off his spectacular win at UFC 107, Frank Mir is being tabbed to face No. 1 contender Shane Carwin to fill the interim title matchup, FanHouse has learned.

The bout, which has not been officially signed but has been verbally agreed to by at least one side, will be featured as the co-main event at UFC 111 on March 27, 2010 in Newark, N.J.
Two title fights are up in one really, really dingy area of New Jersey. Everything is at stake, just like your wallet. If you plan on attending UFC 11, just remember to tuck in your chain and any other valuable jewelry. [Source]