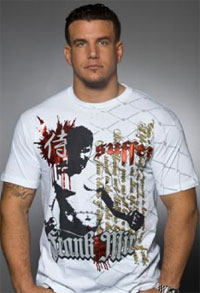 It's hard to overlook the fact that every fighter who fought in Pride FC lost at UFC 119. Mark Hunt seemed to be controlling Sean McCorkle until an unsolicited kimura led Hunt's arm to be either dislocated or broken. Despite owning boxing in Brazil for nearly three consecutive years, Lil Nog was outboxed and generally outworked by Ryan Bader. Finally, the death of Pride concluded when Mirko Cro Cop was knocked out by Frank Mir with just one knee.
Technically you can argue that Sean Sherk was also a Pride fighter which would collapse the entire statement. It would come crashing down like Mirko Cro Cop in the third round after Frank Mir introduced his knee to his face. It was an abrupt introduction that forced Mirko to lose all consciousness and drop to the ground.
Now that UFC 119 is wrapped up in — whatever books that contain MMA fights (and I'm sure some of you will claim that it was one of the most lackluster events in modern ZUFFA history), we can all relax knowing that the event was sponsored by Halo Reach, an amazing game that I intend to play sometime today. I think this may be the first time in years where a knockout bonus wasn't even awarded. The only thing we can conclude from UFC 119 is that Ryan Bader vs. Jon Jones needs to happen. I don't think there is a scenario that exists in MMA in which this fight should not happen, and if there is, let me know.