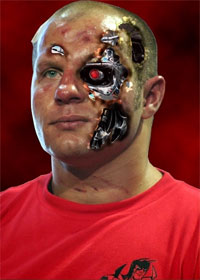 We all get a front row seat to the end of the world. Finally, finally the fight between Fedor 'The Last Emperor (best name ever)' Emelianenko and Josh Barnett has been confirmed for Affliction III on August 1st. Get close to your creator before that date because this fight is friggin biblical prophecies man. I can already feel my heart rate rising as I type this…(better lay off the Taco Bell). We all remember Affliction II (which still has been the best card of the 2009) where Fedor forced Andrei Arlovski to take a spinning dirt nap directly on the mat. But if you witnessed that greatness, you also remember Josh Barnett's very convincing win over Gilbert Ivel (Ivel did get a win over Kongo which is beyond impressive). 
Fedor is the #1 ranked heavyweight in the universe by…miles. The dude is probably the best fighter human history will ever witness, and that's not even arguable. This fight is my reason to live for the next few months…and that picture of Fedor, yeah, it's real.
Join our list
Subscribe to our mailing list and get interesting stuff and updates to your email inbox.