Okay, so, what in the hell is going on at the UFC website? It looks like we entered some sort of rift in time and that UFC 205 has already happened. I feel like I was just given two pills to choose from and the coding in the Matrix has been revealed to me. Spoiler Alert: There is no UFC Featherweight champion.
Someone call Tomas Rios because I think the fix is in.https://t.co/H3s8fvBB3Q pic.twitter.com/pDk7b6x8J0

— Mookie Alexander (@mookiealexander) November 5, 2016
So, does the UFC know that Conor McGregor is finally getting stripped? If so, shouldn't Jose Aldo be the Featherweight champion? Is this a nefarious, behind-the-scenes political move to bury Jose Aldo? Is this simply just a mistake or do we have some mystical energies in place forming a green cloud over New York like in Ghostbusters? That's not all, not only is McGregor not the Featherweight champion anymore, but it turns out he's already the Lightweight champion!
Doing a lil research for next week when I stumbled across this nugget. It's like @UFC already knows @TheNotoriousMMA is gonna win #KingConor pic.twitter.com/fKIadJ8J6z

— Zombie Prophet (@ZPGIFs) November 5, 2016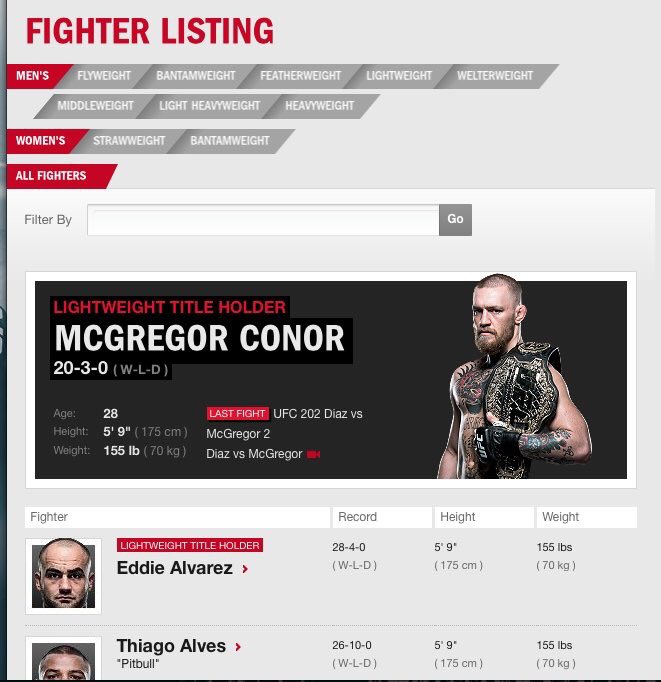 Sure, the UFC messes up. A lot. However, this shit is all over the place on the website in multiple different pages. Maybe it's all that weed I smoked in college, but like, man, it's like a complex infrastructure that has been put in place to completely change the MMA narrative of time, dude.
Judge for yourself and wager your bets, the UFC looks to be preparing for an unparalleled era in MMA under the reign of "King Conor".