Before we tell you that Erin Toughill has a fight scheduled for April 9th, you must know about the other 856 times in which Erin Toughill had a fight 'scheduled'. Strap on your helmet, eat your vegetables and take a trip to two years ago when we all thought Erin Toughill would make her debut with Strikeforce.
On July 30th 2009, Mike Afromowitz broke the news that Erin Toughill was pulled from the Strkeforce: Carano vs. Cyborg card and would only be used as a reserve in the event that Gina Carano or Cris Cyborg had an unexpected visit from the injury fairy. Everything went as planned, Carano caught a severe beatdown from the new 145lb champion and then Erin Toughill immediately claimed she would be able to defeat Cyborg at some point in time.
A few months later, Strikeforce Fedor vs. Rogers was announced which featured Cyborg's first title defense against Marloes Coenen. Cyborg caught an injury, had to drop out and Erin Toughill stepped up to make her Strikeforce debut against someone she already defeated in 2004. Everything seemed to be great, the universe was in order and then on October 27th 2009, Erin Toughill dropped out of her November bout due to a medical problem. Damn.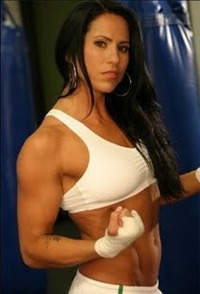 Erin Toughill has used her downtime to tell us how Kim Couture was destroying the sport of MMA and even went so far as to give her tips on how to properly construct a 'Bio' page on her website. Just before the end of 2009, Toughill scored a spot on FCF (Freestyle Cage Fighting) 39. In January 2010, 5oz of Pain confirmed that seven women were contacted to be an opponent for Erin Toughill and all seven refused to face her at FCF 39. Bummer. Chicks don't want to fight one of the best 145lbers out there, and you can't blame them.
In March of 2010, Erin announced on her Facebook (got to love social media) that she would no longer be fighting for Strikeforce due to beef she had with the promotion. It was the end of Erin Toughill in the world of women's MMA — for about a two months. Strikeforce later announced that a bout between Shana Olsen and Erin Toughill was being scheduled for Strkeforce Houston. Great, now we finally had a legit fight for Erin Toughill to possibly set-up a run at the 145lb title. But, things sort of fell apart…again.
Erin Toughill had problems cutting to 145lbs. Major problems. When her opponent heard the news, Shana Olsen made a few comments that warranted a response from Toughill so incredible, that it needs to be placed on MiddleEasy just one more time.
Shana Olsen? Are you joking right now? 6 weeks out it was discussed & a week later NOTHING was signed. I guess you feel tough going on a rant on your FB? This was MY fight. Why dont you take a look at the RANKINGS & SEE where you are. You barely have broken the "Top 10" in the last 6 months with 4 fights lol now you are bitching because YOU did not get to be the opponent in MY warm up fight? There are SEVEN other women who could have been picked BEFORE you. Do you have any idea how you jumped that many places & were asked to fight a #2 ranked fighter? Is that coincidence? You were, in no way, SF's pick to fight me lol I asked them b/c we had discussed this in the past. My warm up fight is based on what I want…not what you "think" you deserve. The title IS… See More 145, but this is NOT the title. This is NOT a "title contention" fight b/c you are NOT ranked next to me LOL How would a #2 (ME) and a #9 or #10 fighter (you) be fighting for a title contention? That's right…we wouldnt. But in your small mind…evidentally we are.

You have been fighting 1 year & the way you are running your mouth shows that. You need a reality check b/c this is not a "title contention" fight for you & this bout is not based around you. If that was the case, SF would have picked the half a dozen women ranked ABOVE YOU. But for some reason you think you are higher on the ranking, when in fact, you are NOT. I asked for 150 lbs b/c I was comfortable making that in 6 weeks. I know you are a bigger woman, so I said they could offer 155 lb if you were open to it. IDK what this thing about "149lb" is, but why would i say "NO" if I was asking for 150 lbs? You really think one lb makes a difference? You are making yourself look like a fool b/c there was NO contract yet & this is FIVE WEEKS OUT, not the day of the fight, Moron. Funny for someone to throw stones, right? Wasn't it YOU who fought Kaitlin Young several months ago and you came in WAY OVER WEIGHT for the fight? You were fighting someone who came in on point…and you did NOT! You actually SIGNED a contract and you didnt make weight & YOU are going to run your mouth about a fight w/ me that never even happened?!

Anyone can be brave behind a computer screen, Shana. And I hope this makes you feel better about yourself & gives you some fake confidence, b/c you are showing how insecure you really are. I gave myself, my fans and YOU the respect you deserve by NOT signing a fight in a short amount of time if I didnt think I could make 145. Since when is that an issue? If you wanted to kick my ass SO BAD, or you THINK you could kick my ass lmfao, you should have taken the fight, right? Why is 150 an issue? You coulda fought me and had a chance to take my #2 ranking by giving away a couple lbs. But instead, You're guna try and make me look bad when I never signed anything and I gave FIVE WEEKS notice? You are a complete idiot, truly you are. You're pissed bc you dont get to fight…but you could have; we both could have. This is NOT based around YOU, Shana…this is based around me. So when you "get that", you might calm down and stop posting inane shit on ur FB. So when I fight next, SF can/should pick the half dozen ppl ranked above you; and then you can fight the girls above you 1 by 1; and then work your way up the ladder like I have; and then maybe you'll get your reality check.

I hope you are getting false reinforcement through all of this. I think you went about this the wrong way and you should have most likely heard the whole truth instead of half of it. It's truly pathetic when ppl feel the need to sink to this level and try to talk shit when there is nothing to back it up. You make no sense and this proves it. Ok, "Rock Solid" lol Whatever you say…I am so scared of you 🙂 I dont know how I sleep at night Im so scared of you.
Yes, that was all one Facebook status update. Legendary. It took Shana Olsen just hours to respond in perhaps the greatest women's MMA verbal battle in history.
Dear Erin-

After reading your five paragraphs of rambling, I have decided to keep this short and sweet.

The fact that you would consider yourself #2 in the world amuses me Erin. The last time that you fought anyone who was ranked in any combat sport we saw you literally running out of the ring. I really wonder if that was the point where you realized that both boxing and mma have passed you by.

While you've been sitting on the sidelines all year talking about how badly you've wanted to fight, I've stayed active. My last fight was against Yoko who at the time was ranked #6 in the world. Yes, it may be a small step down for me fighting you (an unranked opponent) but for the sake of retiring you, I think it's worth it.

In closing Erin- Fight- Or shut the hell up and go away. I'm still ready to go on August 21st. If you can handle it, put down the fork, put on your running shoes and meet me in Houston. If not, post your tantrums elsewhere and find a new promotion to poison.

Hugs and Kisses,

Shana
Epic response was epic. Even Sarah Kaufman decided to let the world know her opinion about Toughill not cutting weight. Unfortunately, Erin dropped out of her fight with Shana Olsen. Bummer.
A few months later, Erin Toughill finally got a fight, this time at 155lbs in Singapore against 3-0 Bao Yu Dan of China. Great, Erin Toughill could finally get another — ah damn, broken clavicle. Fight canceled, again.
So when Erin Toughill posts on her Facebook that she's fighting in Shawnee, Oklahoma at the Firelake Grand Casino for Freestyle Cage Fighting — we're not sure what to think. [Source]