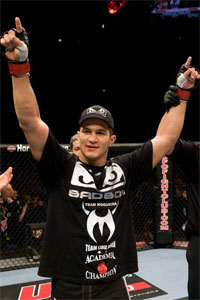 There you have it. The fight that we all assumed was going to eventually happen at some point in Junior Dos Santos' path of absolute destruction will finally materialize. Dos Santos will now face the winner of Brock Lesnar vs. Cain Velasquez in a fight that will be sure to cause some form of brain leekage in the immediate future.
I guess we can all assume that whatever Andrei Arlovski loaded in his gloves that night at EliteXC: Heat would be considered a 'Weapon of Mass Destruction' under the Bush administration. October 4th 2008 was the only time in Roy Nelson's career in which he was finished. Big Country proved that he can take an absurd amount of damage and still retain his consciousness. For a dude his size, you would think that he would rely on continental drift to submit his opponents. But Nelson is like a mongoose in the cage. Let me rephrase that, Nelson is like 82 mongooses sewn together into one extra large mongoose with exactly the same speed as a regular, non-frankensteined mongoose. Unfortunately, tonight he just could not get it done.
Props to Junior on his huge win and being next in line to bang against whoever leaves the cage in one piece after Brock Lesnar vs. Cain Velasquez. Moonbelly – 0, Guys with really cool nicknames that you assume means cigar but really means 'gypsy' – 1.