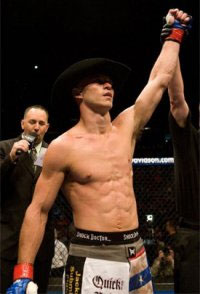 This was probably the first time I saw a fighter wish death on their opponent, retract the statement, but actually meant it the entire time. It was as if Varner stole every left sock, broke every NES game, drank every last beer, ate every box of leftover Chinese food and copied every piece of homework from Donald Cerrone and tonight was the night in which all prior beefs were going to come to a stunning resolution. When the bell rung, Cerrone ran across the cage with the intent of smashing the nearest inanimate object over Varner's head. Fortunately this was not the WWE. There were no chairs, fluoride lights or wooden ladders for Cerrone to use, so the next available option were his fists and occasional flying knees. At one point, Cerrone jumped up for a flying knee and nearly flew over Varner. Just minutes later, Varner's mouthpiece flew out of his mouth. When Herb Dean tried to get Varner to place it back inside his mouth, Cerrone called Varner a name generally reserved for a woman's reproductive organs.
At the end of the first round, Varner tried to touch gloves with Cerrone and was met with a finger aimed directly at his face. Varner returned the friendly gesture, and for the rest of the fight, things seemed to get progressively worse for Jamie Varner. At the end of the bout, Varner tried to touch gloves with Cerrone yet again and was met with an elbow shove from Cerrone. Varner tried to do the same by throwing some lazy back push, but Herb Dean jumped in between them before we had the chance of seeing WEC's version of Daley vs. Koscheck.
Cerrone easily pulled off the unanimous decision win and offered Varner a rematch in Arizona, not as a sign of any hint of a truce, but just because it would be another state to throw his fist at Varner's face.