Don Frye being the altruistic individual that he is, got a hold of me yesterday afternoon after an acting audition to retract a statement made in his now infamous interview with us from earlier in the week (as always, please read in Don Frye's voice):
Yeah, I made a mistake and I said my sensei trained Ronda Rousey long ago but I was wrong. He just knows her. Usually when he says 'I know that person' it means he's done a lot for them because he's not the type of guy who will boast, but yeah, I made a mistake I screwed up.
It's cool Don Frye, stuff happens, we appreciate you clearing the air. With that said, I have the new Round 5 Series 9 collection in my possession and I want to give the entire box of figures away to one of you guys. I think that we should make Don feel better from having to make a retraction, and remind him why he's a legend in the sport and why we fight fans love him so much.
We want you to create the ultimate tribute to Don Frye's mustache.
Write a Haiku, a song, a limerick, do some Photoshop work, make a movie about it, tell us a personal story about Don Frye's mustache, whatever you want to do, do it. This man deserves our praise and it's common knowledge that MiddleEasy readers are the most talented and creative….readers out there.
Post your entries in the comment section or send them to me [email protected] and the winner will be picked within a day or two. You don't have long to win the pack of Round 5 figures that are individually numbered and off the shelf are worth $70. The collection includes Chris Leben, Cain Velasquez, TUF Mayhem Miller, WEC Ben Henderon, Pride Nick Diaz and Pride Don Frye.  Let's do this.
For Don.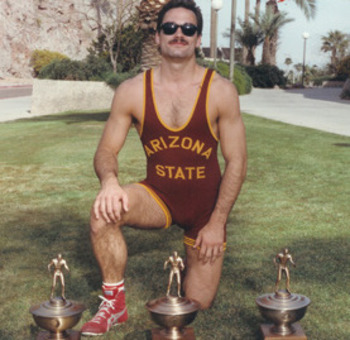 The entries are already coming in, here is a Haiku from reader Archilla Jordan:
Don Frye's thick mustache
puts fear in your mortal soul
The Predator lives