When Conor McGregor smacked away Nate Diaz's hand during the stare-down after yesterdays presser, all hell broke loose. Nick Diaz, Jake Shields and the entire crew rushed the stage as the lone McGregor just seemed to enjoy every moment. The internet followed suit soon after and the hot debate today is exactly what McGregor intended.
It seems like McGregor didn't just smack away the Diaz brother's hand, but straight up left hooked it with a closed fist. Which opened up a whole new can of worms…
Don't get upset when I mention McGregor trying to injure Diaz's hand in the post fight.

— Jack Slack (@JackSlackMMA) March 4, 2016
Look if u disagree You prob dont fight or better yet… have a friend fucking left hook you in the hand. See how Feels , then hit me Back

— Edward Alvarez (@Ealvarezfight) March 4, 2016
It's easy to look too much into something and say McGregor was just "in the moment", but McGregor has proven to be a master of psychological warfare as well as a very cerebral fighter. There was time for a choice and McGregor chose the fist instead of the open hand. One gets the hand out of the way, the other breaks it.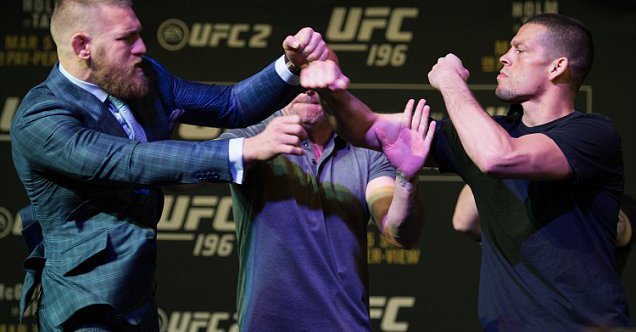 If this is true, was it moral? Probably not. A smart strategy? Absolutely. Watch a slo-mo replay below.
Here's a slow motion replay of McGregor punching Diaz's fist away at the presser face off. #UFC196 pic.twitter.com/z1KZ05lYqd

— Chamatkar Sandhu (@SandhuMMA) March 4, 2016