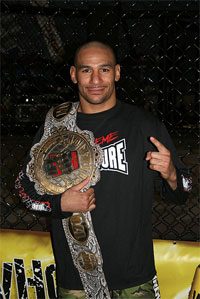 MMAWeekly is reporting that Marius 'The Whitemare' Zaromskis will face Nick Diaz for the vacant Strikeforce welterweight title. That's going to be a really tactical match-up and I'm happy for both of them but we can't ignore the 900lb elephant in the room that's stepping on your coffee table and knocking over your 2-litter bottle of Sprite: Jay Hieron.
When Affliction collapsed last summer, Jay Hieron had to choose between going back to UFC and working his way into a title shot or going with Strikeforce which offered Hieron an instant title bout against Nick Diaz which was supposed to go down in August. Hieron told us why he chose to be with Strikeforce back in September:
I'm hoping on that Diaz fight, for my next fight again in Strikeforce for the title. My understanding is no matter what, even if it's not Diaz, I get a title shot in my next fight for Strikeforce. You know, I can't really control what Nick does. I think that's a great fight for me and him…and for the fans. That's a great fight.

My decision to not go with them [UFC] and to go with Strikeforce was a couple more incentives like a title shot, you know how many times do you get a title shot in your career? So I really couldn't turn the title shot down…My main focus now is to get this title in Strikeforce.
When the Whitemare mowed through the Dream welterweight tournament this year, people pegged the guy as the next Anderson Silva. Granted, dude is really exciting and does some really unorthodox things inside the cage/ring. This is going to be a great fight for the fans but…what the hell happened with Jay Hieron? Where is his instant title shot? [Source]