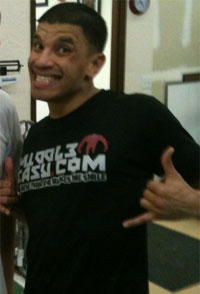 Last week, DaMarques Johnson asked for an official nickname to use when he fights Matt Riddle at UFC on Versus 2 in Salt Lake City, Utah. After much deliberation and a bottle of absinthe later, we're going with D-Zilla which is a hybrid tribute to the late Stones Throw producer 'J-Dilla' and the only reptilian alien monster to ever wreck havoc on Tokyo and have a camera film the entire thing, Godzilla. That's your name DaMarques, there's no going back now. It's already written in stone (sort of).
Cat Von C caught up with DaMarques Johnson last week to get his take on what's going to happen at UFC 114. Instead of a comment, the dude gave us his entire breakdown of UFC 114 and threw some predictions at us that we couldn't help but publish on MiddleEasy.
The following are Damarques Johnson's UFC 114 predictions written by the man himself. Thanks a bunch D-Zilla. Enjoy!
DIEGO "is he crazy?" SANCHEZ vs JOHN HATHAWAY
YES, I'm making a prediction on this fight. YES, I think Diego has more experience in big fights (not that this is as BIG as his previous). YES, John Hathaway is good, but YES, still a little green for the 'YES' motivated vet that is Diego "YES" Sanchez…and YES, this chant drives me nuts.
DaMarques' Pick: DIEGO SANCHEZ
LIL NOG vs JASON BRILZ
This match is purely a question of "does the old school still got it vs the new school hungry lion that has to prove himself". Reminds me of the LL COOL J vs CANABIS battles in the hip hop realm. I've learned Lil Nog is never, ever out-matched in a game of fisticuffs. You just have to wonder if too many miles have been put on Lil Nog's motor though. We shall see. Personally, I wouldn't bet on it. Betting against Nog is like betting against Randy. Yeah, your money goes one place, but your heart remains in another. I don't see Nog with a decisive edge anywhere that is overwhelming (other than quality of opponents) vs Jason Brilz. Judging by Brilz record, (which i hate doing) looks like he deserves to be there. I think Brilz will come out the gates surprisingly hard and demand the respect and Nog will oblige him, guide him into the deep waters and drown him…just like the drowning LL put on Cannabis back in the day. [Editors note: I think Canibus murdered LL Cool J in that rap battle]
DaMarques' Pick: LIL NOG via third round sub
TODD DUFFEE vs Mike RUSSOW
Who doesn't love a throwdown between two oversize behemoths of men? At one point in time, way back when I was like 7 (that would make it 89) the heavyweight division was the ultimate measure of all man. Yes, I'm talking old school, like when being the heavyweight champ in boxing meant you were simply the baddest man on the planet. However, this ain't boxing and times have changed. I believe that the UFC houses most of the baddest men on the planet and Todd Duffee is one of them. He looks like he sweats creatine and defecates toddlers. I don't know much about him other than he is an intense individual. I have no idea about Russow, (not that I'm disrespecting) I just don't know enough to back the guy. He seems fairly savvy on the ground and with a record of 12 -1, you have to respect it. At this point its a coin flip, so…
DaMarques' Pick: DUFFEE round 1 KO
MIKE BISPING vs DAN MILLER
'How much do you hate Michael Bisping?' 'How pissed did you get when he threw water in your face?' 'Would you have really fought him if you could have?' 'When are you moving up to fight him?' These are the questions I get asked EVERY SINGLE encounter I have with a fan for some reason. Let's set the record straight: I DO NOT HATE BISPING. YES I GOT SUPER PISSED WHEN WATER WAS THROWN IN MY FACE. YES I WOULD HAVE REALLY FOUGHT HIM AT THAT TIME. NO I'M NOT MOVING UP A WEIGHT CLASS. YES (much like Diego) I'M OVER IT! OK then, moving right along, just because I'm kind of sick of typing…
DaMarques' Pick: DAN MILLER via second round sub
RASHAD EVANS vs RAMPAGE JACKSON
This fight is filled with hood cred and rawsomeness. There are a bunch of intangibles that come into play with Rashad vs Quinton. A bit of ring rust for Rampage, and some chin for Rashad (Rashad, dude, don't get mad at me for saying that, I'm just sayin'). Rampage might have a slight edge in power I think, but Rashad has the edge in wrestling. The X-factor in this fight is who lets their emotions get the best of them. I'm predicting a sweet ass old-school throw back hip-hop song by Rashad and something a little more current and dirty-south hood style by Rampage. I like both these guys, but if you held a brown recluse spider in front of my face and told me to make a decision (FYI: I'm scared to death of spiders since I nearly died from a spider bite once-but that's a whole other story I can tell you one day over beer and tacos) I would say Rashad by decision.
DaMarques' Pick: RASHAD EVANS via decision