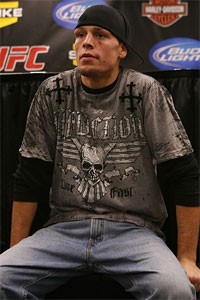 Whenever Damarques Johnson makes MiddleEasy.com's official UFC picks, a lot of pressure is lifted from us. We are no longer responsible for your compulsive gambling, Damarques Johnson is and if you lose money on these picks, there's absolutely nothing you can do about it. If you come knocking at our door complaining about a pick, Damarques Johnson will effortlessly out-box, out-grapple, out-jiu-jitsu and out-mean mug you if it comes down to it.
The following are Damarques Johnson's UFC 118 predictions written by the man himself. Thanks a bunch D-Zilla. Enjoy!
Nate Diaz vs Marcus Davis
West Coast 209 rep Nate Diaz is set to tow the line against the 'Irish Hand Grenade' Marcus Davis on what is surely to be home field advantage for Davis in the proud city of Beantown. In this match up we have hood cred vs blue collar. These are two guys that never shy away from their fight style. I'm gonna predict Davis' present, powerful and always forcing the game style will cave to Diaz's 'ain't no bitch' fight style and street cred, homie.
My Pick: Nate Diaz
Kenny Florian vs Gray Maynard
The smart kid vs the bully. This reminds me of my high school days when the resident bad ass, (you know the scary kid that has had facial hair since 4th grade) crosses paths with the Greek squad representative (who's toting his own full load of anger and repression issues) on the day he has had enough of the years of bullying. What happens? Its a coin flip really…however-angry, motivated, smart guys are inherently efficient when they lose it and go on killing sprees. Then again, a bullies rep for wanting to kill you and play in the blood of your lifeless carcass precedes itself. My guess is it will be smart kid with steely eyed malice clock tower shooting style attack. Only leaving people with things to say like, "I never would of guessed, He seems like such a nice young man."
My Pick: Kenny Florian
Randy Couture vs James Toney (or MMA vs Your Grandpa's BOXING)
Guys I have a confession, I hate this fight to be honest with you.Mostly because yes, it does have that flare of sideshow element. It's not a boxing match it's a fist fight first of all. I was a James Toney fan back in the day watching Friday Night Fights way back when Jesus was a blue belt. He instantly turned me into a Roy Jones fan when mid-showboat he was put on quit street. I don't really care for the brash assumption that just because you are great at one thing it makes you great at all things.
Does Randy "never bet against me" Couture win this fight hands down? I say, no. Randy's clench,dirty boxing, and wrestling isn't that shoot and shoot again pedigree of the blond haired Q-tip-esque Koscheck, or LL GSP (ladies love). Nope, Randy's strength of clench and wrasslin totally plays into Toney's long time strength of inside fighting, and short punches. My bet? Hell! It's cyberspace so, let's always bet on black ala Wesley Snipes in Passenger 57 and hope it pays out.
My Pick: Toney via KO (don't hate me too bad.. OK?)
BJ Penn vs Frankie Edgar
This is a match up that you expect to be as fun as a drunken Dropkick Murphys sing along with topless beautiful women abound. However, I fear this fight may end up like my prom night aspirations did…with me sobbing on the corner of my bed with my face in my hands saying "I knew that sh*t would never happen for me." Edgar forced Penn to play into his game plan perfectly in Abu Dhabi. I don't see the Renzo camp straying too far away from what was already proven to work for Frankie. The variable here though? BJ Penn.
Bj hasn't lost back to back since 06 when he was fighting 170. Oh, and who where those guys that beat him? LL GSP and Country-ass Matt Hughes. A motivated Baby Jay (side note: writing "a motivated BJ" just seemed horribly wrong in this context) is the most dangerous human being on the planet. I'm guessing BJ has something he wants to prove to himself more so than to any fan, critic or even the mighty UFC brass. And,that my friends, is fire that burns extra hot. Motivation and execution are 2 different things entirely just as Edgar imposed his will on BJ once before. Have the adjustments been made by Baby Jay? Will he execute? I'm saying, yes.
My pick: Penn will burn white hot through Edgar much like he did Sherk, Stevenson, Florian, and Diego once they turned up on his radar.
Peace Love and Nappiness
DZilla
Props to oae1985 for the alternative UFC 118 poster!