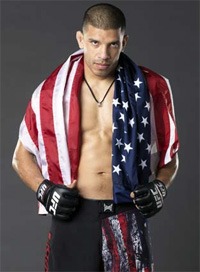 Damarques is our dude. He's our dude because he told us if he had to fight one Mortal Kombat character it would be Sonya Blade just so he can flirt. Dude doesnt even want to fight a videogame character, he only wants to get laid by one. That's probably the most ballerish thing you're going to read today. In fact, just brush your teeth, go to bed and wrap yourself in a snuggie because your night is pretty much over. It can't get any better than that. Alright, we lied because it does. Damarques Johnson just scored a triangle choke over Edgar Garcia to get his first professional win inside the octagon.
Kevin Iole from Yahoo! Sports tweeted (twatted?) from the FedEx Arena tonight that Damarques and Edgar opened up the fight with some serious punches. The fight went to the ground and Damarques worked his way out of a deep choke from Garcia. Damarques gave the thumbs up and the crowd went nuts. They eventually got back on their feet to exchange a flurry of headaches and Garcia rocked Damarques and sent him to the mat. Damarques regained his composure and managed to triangle choke Edgard grabbing the W in 4:03 in the first round.
Our dude just won! Get out of bed, rip that snuggie off and start punching my functional alcoholic neighbor in the face out of sheer excitement. Don't worry, you have my permission. Props to Kevin Iole for the update and a massive congratulations goes out to Damarques Johnson on his potential 'Fight of the Night' award. Hopefully we'll see you in the next UFC video-game and perhaps your dreams of fighting Sonya Blade will come true.