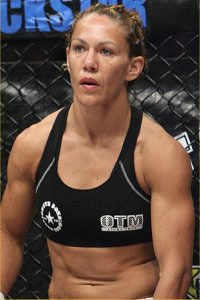 What could be said about Cyborg's dominance over women's MMA that hasn't already been said about every nuclear testing site in the Nevada desert? I couldn't really get a good view on press row but did Cyborg break Jan Finney's mouthpiece in half? I think if you look closely on the mat, you can see Finney's will and ambition also laid out on the mat, somewhere.
Should the fight have been stopped earlier? Who knows. Apparently the entire row behind me thought it should. Nevertheless, Jan Finny brought enough ruckus to even make Wu-Tang proud. Unfortunately, Cyborg is time traveling cybernetic entity from the future so it essentially rules out anyone trying to take away her belt for the next few years. Well, unless Erin Toughill irons out whatever problems she has with Strikeforce. Props to Cyborg on an amazing display of absolute force.
Hypothetical question: If you were with your girlfriend and Cris Cyborg slapped your girlfriend, what would you do? Exactly.