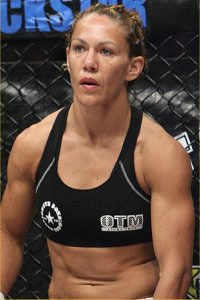 Tonight, Cyborg proved why she's named Cyborg.
Well, we all have to admit…Gina Carano looked pretty damn hot tonight. Absolutely stunning. Despite looking like my future wife, tonight belonged to Cris Cyborg. It was defintely the most exciting fight of the night. With one second left in the first round, the ref called called it off due to the vicious ground and pound originating from those metallic limbs Cyborg calls 'arms'.
So what does that mean for women's MMA? It means that we get to see Erin Toughill vs. Cris Cyborg. Or even Sarah Kaufman banging against Cyborg. The women's 145lb division is wide open for chicks right now. We'll maybe even get to see Carano vs. Cyborg II (if you cross your fingers long enough).