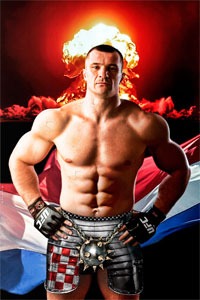 So everyone did a backflip when it was announced Mirko Cro Cop signed with UFC and that his first fight was going to be in UFC 99 against Mustapha Al-Turk. Everyone did their little Cro Cop dance, ate a couple of spleens in honor of Mirko. Tonight, Cro Cop's return to the octagon was marked by another soul going down Cro Cop's esophagus. It's like he was trained in Shang Tsung. Barry just fought against a dude that trains with mythological creatures. We all fear Cro Cop, it's nothing to be embarrassed about.
This is a huge turn-around from Cro Cop's fight with Dos Santos last year. At UFC 103, a part of me died…so I kicked it under the chair and I think the cleaning lady scooped it up and threw it in the trash. The fight ended so abruptly that everyone in the audience just stared at the replay on that massive 1,000,000 inch HDTV suspended in the middle of the American Airlines Center for some sort of explanation. We thought he was poked in the eye and he needed some time to recover, but the unthinkable happened. Cro Cop gave up.
Tonight at UFC 115, Pride level Cro Cop returned just to make everyone's head simultaneously explode from sheer amazement. With a rear naked choke victory over Pat Barry, we all now know that we have another choice besides 'left leg hospital, right leg cemetery'. Excellent job by Cro Cop and we will have Cro Cop's hilarious antics at the post-fight press conference.