It's finally getting cold here in Texas. There is nothing that warms your innards and your soul more than a delicious bowl of chili. Traditional Texas chili has no beans in it. I'm not one to follow rules so like the honey badger, I'll do what I want (and add beans).  The protein used is entirely up to the cook. I used deer for this one, but occasionally I love a good sirloin chili too.
Ingredients
2 (15.5 oz) cans of Chili Beans. NOT CHILI, Not chili and beans
1 (15.5 oz) can of kidney beans
2 (28oz) cans of DICED TOMATOES
2 small cans of diced green chilies (NOT jalapenos)
2'ish tablespoons of chili powder
1'ish tablespoon of liquid smoke
1'ish tablespoon of cumin
½ cup brown sugar
Add salt pepper, garlic salt to taste
Method
Combine everything into a crock-pot.
Cook on high for 30 minutes.
Dice 2 yellow onions, cut and fry until brown. Cook Garlic 2-4 cloves with onions.
If you use beef, deer, pork or lamb (cube/chunk), cook with some garlic salt and oil. Slightly undercook them (rare/medium rare).
Cover and cook everything together for about 1.5 hours on medium or 2 hours on low. 20 minutes before you are ready to eat, add a couple tablespoons of flour and stir it in.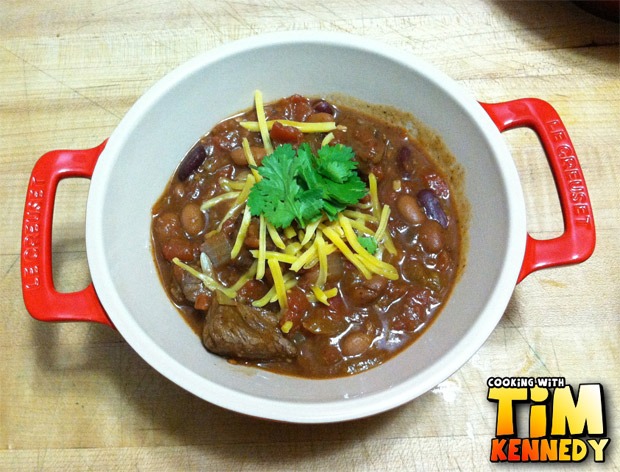 Be sure to check out more of my work on Middleeasy and follow me on Twitter!