This is interesting. Since the dawn of professional combat, after the rules were scribbled out and payments were settled with a handshake, the thoughts of "is this fight a work" also immediately popped up next. The essence of combat sports traces its roots back to fantasy versus reality.
Two humans fighting for our entertainment is too good to be true?
Which brings us thousands of years later to 2017 and Bellator 170. In the main event Tito Ortiz tapped out Chael Sonnen in under two minutes but was this storybook ending too good to be true? How often does a retiring combat sports star get a big sendoff in his final fight, win in his final fight and win very convincingly in his final fight?
Does all this add up? Maybe or maybe not according to this just released footage from a grappling sequence between Ortiz and Sonnen. Sit down, compose yourself then slowly watch Ortiz's hand.
I mean, if you could work a fight so the guy leaving embarrasses the big star you just signed….why wouldn't you? https://t.co/ON4bVRcSEu

— Jonathan Snowden (@JESnowden) January 22, 2017
Interesting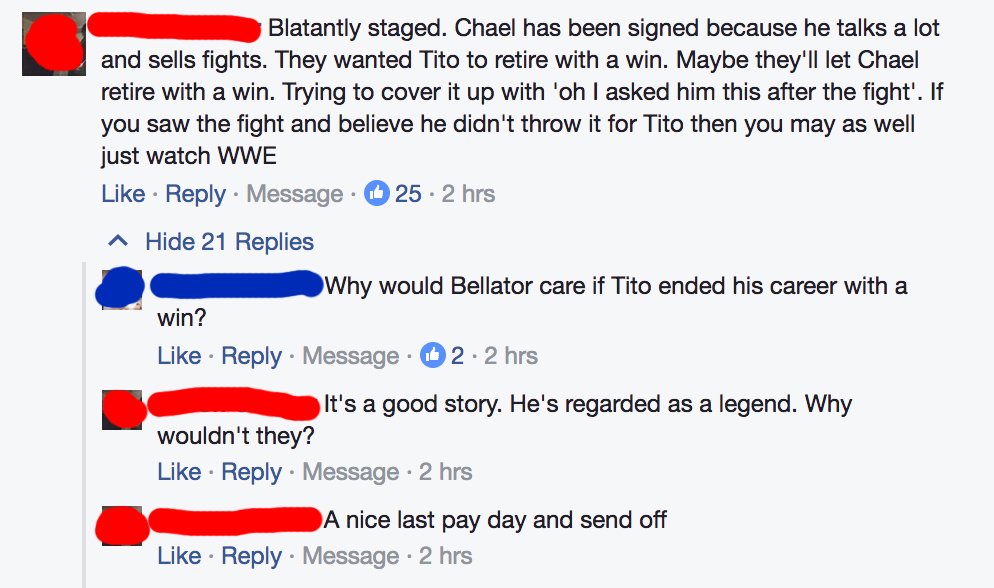 Go on
If you think about it, it's the perfect crime. Have the lucrative new signing lose to the retiring fighter. Nobody will ever expect it.

— caposa (@Grabaka_Hitman) January 22, 2017
Follow the breadcrumbs
The #Bellator170 main event was more choreographed than a Brittany Spears music video. Shame really… It might have been a fun fight.

— Dan Hardy (@danhardymma) January 22, 2017
#MindBlown