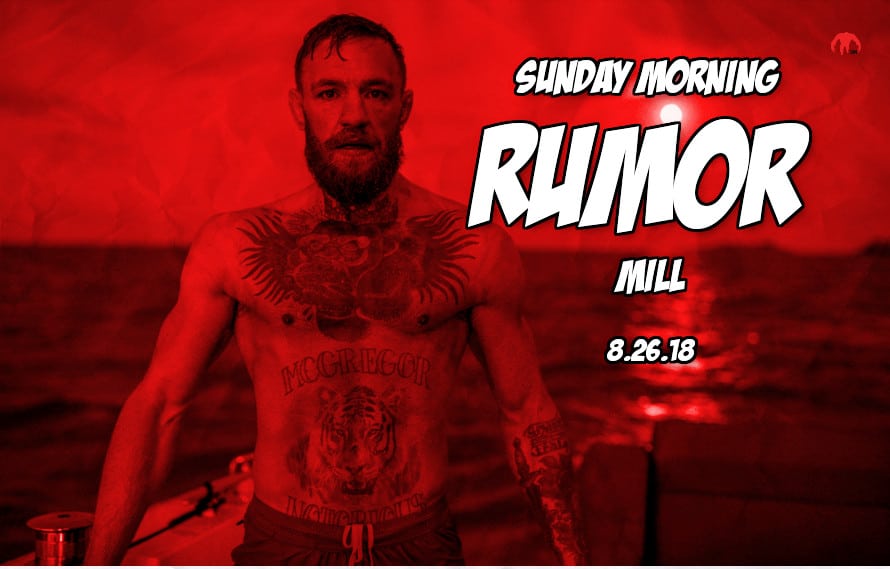 To those of you who watched KSI vs. Logan Paul, Bare Knuckle Boxing and UFC Lincoln back to back to back, the Sunday Morning Rumor Mill salutes your service. If you're not mixing YouTube celebrity boxing, bare knuckle fights and the biggest MMA promo in the world into a cocktail over ice then what are we really doing here?
MiddleEasy is here to serve one and all. The Big Red Monster is for everyone and was everywhere this week.
As always these are rumors that have been talked about behind closed doors between MMA higher ups, so take them as MMA rumors.
Before you slather some more grilled corn with butter and hot sauce. Pause for a second and enjoy another Sunday Morning Rumor Mill snack.
Rumors have been floating for the past few weeks that Tito Otiz vs. Chuck Liddell part three is in jeopardy. The fight may even get bumped to 2019.
Smaller story but we're sure you're following it. There has been rumors that Conor McGregor has walked into his UFC 229 somewhat out of shape. The year long layoff from any kind of fight camp plus his new lifestyle may contribute to Mac losing some muscle mass off his frame.
For their debut card with ESPN, the UFC wants to make a strong impression. A possible action fight between Robbie Lawler and Wonderboy Thompson may serve as main or co-main event of the first ESPN show.
Now a WWE champion it looks Ronda Rousey may headline a PPV next. Rumors are Rousey may headline the WWE's first all women's PPV in October.
If you have heard of any interesting Sunday Morning Rumor Mill MMA rumors that you would like to add, feel free to post them in the comments section below, on our Facebook page, tweet us or mail them to us in an unmarked envelope. Just remember they are rumors and not confirmed as fact, so please take them as such.