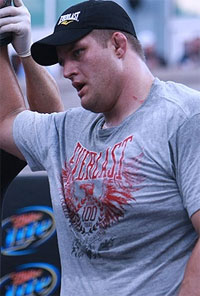 Cole Konrad goes by the moniker 'Polar Bear', which is interesting considering that there are no polar bears in his hometown of Appleton, Wisconsin. It's safe to say that Cole Konrad has never seen an actual polar bear, nor has the person that granted him that nickname. Cole Konrad's nickname operates solely on the assumption that polar bears exist. In fact, everything that we know about a polar bear comes from National Geographic. No one can claim that they've seen a polar bear, and if you do, I still won't believe you. The only tangible evidence we have of polar bears existing is Cole Konrad's brief 7-0 record. After tonight, we now know that polar bears have the ability to keylock giant South African guys inside a cage with fifteen seconds left in the first round.
After months of Bellator's heavyweight tournament, only two were left from the multitudes that entered the Bellator cage only to receive an 'L' on their MMA record. As that strange guy said in Mad Max: Beyond the Thunderdome, 'Two men enter, one man leave'. You've probably asked yourself why that quote hasn't been utilized more in MMA. Well, we did see it, albeit in a different manifestation, when Alistair Overeem took on Paul Buentello for the Strikeforce heavyweight belt back in 2007 with 'Strikeforce: Four Men Enter, One Man Survives'. As far as the term 'Thunderdome', there's an MMA school based out of West Virgina that currently claims that coveted name. There was also 'Thunder in the Dome', an MMA event that happened over the summer that featured a random pre-fight autograph signing with Dan Severn. The event took place May 22nd, just a few days after Cole Konrad made his Bellator debut by defeating Pat Bennett in a unanimous decision. I'm stellar with transitions, I know.
Last night, Cole Konrad stepped in the cage at Bellator 32 against Neil 'The Goliath' Grove, to finish what they started earlier this year and crown the organization's first heavyweight champion. The fight started off with both fighters being overly cautious. Konrad shot for the double leg, scored it, but Grove managed to get back on his feet almost instantaneously. Both fighters toyed with making it into a stand-up fight, until Cole shot for another takedown and managed to pin Grove on the mat for the remainder of the fight. Towards the end of the first round, Cole secured a tight keylock and with just fifteen seconds left in the round, Grove tapped out due to excruciating pain (those things hurt). Congrats to Cole Konrad for being the first person to ever wear the organization's heavyweight belt. Now I must finish watching that scene in Mad Max when Mel Gibson is fighting that guy with the helmet only to reveal that he has down syndrome in the end. My god, 80s movies were so politically incorrect.