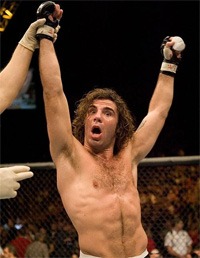 Don't pretend like you didn't know Clay Guida's DNA is spliced with Capcom. It's a existential fact that Clay Guida is really Blanka from Street Fighter 2. I don't know how many times I've told you guys that Capcom modeled the entire Blanka character from Clay Guida's junior high-school picture. In fact, Clay Guida should take a break from MMA and start organizing a team of lawyers to sue Capcom for copyright infringement. Luckily, the dude lives in an RV so dealing with attorney's is like the last thing he thinks about after he wakes up from his double-decker bunk bed. Kevin Iole from Yahoo! Sports just reported that Clay Guida defeated Shannon Gugerty via triangle in the second round. Here's what Guida had to say in his post-fight interview.
"I don't think I've done that in practice before. It just came naturally. The Caveman can submit people too."
Props to Guida for his first win in over a year and even bigger props for Guida not resorting to his special attack where he crouches in a corner and shoots electricity from his body. That would have been bad for PR.