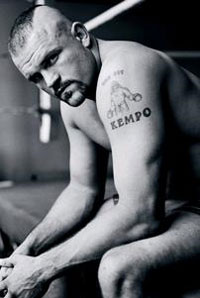 Early this morning while the rest of the MiddleEasy was passed out next to the toilet bowl after spending all night shotgunning beers and riding the Space Mountain roller coaster at Disneyland, Fighters Only Magazine reported that an industry source has confirmed that Chuck Lidell will be facing Rich Franklin at his next bout. Its being reported that this is to happen at an April 17th fight Night in Nashville, TN. The reason for Tito being out, is not being released at this time but its said it is not injury related, yet could be fight career ending. Interesting.
Update: This bout will take place at UFC 115, not in April. Tito Ortiz however is still out with a potential injury that could be career ending.
Chuck Liddell will be fighting Rich Franklin in his next bout and not rival TUF 11 coach Tito Ortiz, Fighters Only has heard from a reliable source. The switch was initially reported to us just under two weeks ago but was only a rumour at that time.

However, the rumour hit message boards late last night and an industry source confirmed that Liddell will indeed be facing former middleweight champion Rich Franklin. The fight is to headline an April 17th Fight Night event which will counter Strikeforce's show on the same date.

Rumour has it that the event will be staged in Nashville and be broadcast for free on the Spike TV network. That would present Strikeforce with the double problem of competing head-to-head with the UFC both for arena audience and television audience.
It does seem unlikely as this is only a few weeks after Season 11 of TUF starts back up and the UFC will have only a few weeks to sell tickets to this event. The UFC has until Thursday to apply to the Tennessee State Athletic Commission to host an event, so we should know how valid these early reports are by then. If all of this turns out to be true, this will be the most gangsterish counterprogramming that Dana White has attempted against Strikeforce. The poster for this event should be Dana White's face photoshopped onto that famous picture of Tony Montana aka Scarface holding a machine gun saying, "Say hello to my little friend". [Source]