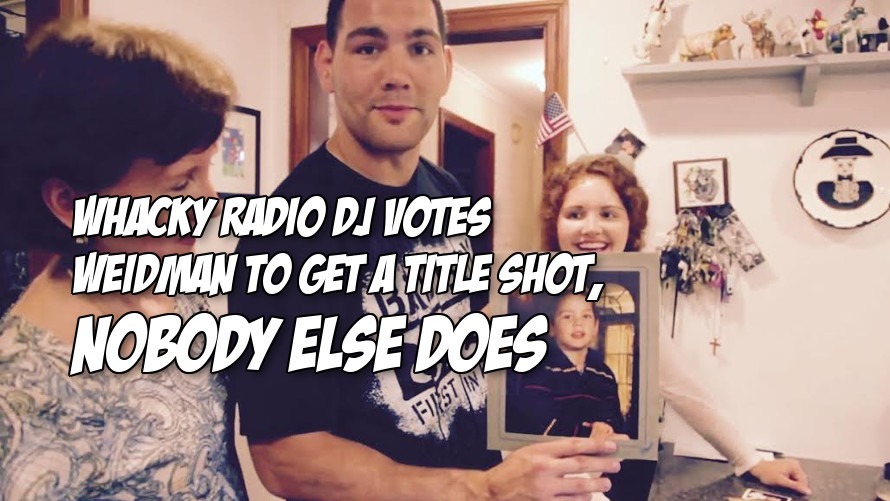 The gravitational pull of the Earth is leaning the UFC into making Michael Bisping's first middleweight title defense against Dan Henderson. Everybody loves Uncle Hendo, the two fighters have a built-in rivalry in play and Henderson is coming off an impressive knockout win. While the world awaits an UFC 100 rematch between Henderson and Bisping taking place later this year in England, there is one man in the MMA multi-verse that does not want this fight to happen; his name is Chris Weidman.
You may remember Chris Weidman from such fights as destroying the legacy of Anderson Silva volumes one and two.
Weidman may have some valid points in his attempt to talk his way into a title shot, despite coming off a loss, but "The All American American" decided to use the UFC's own media rankings to make his case. Bad move Weidman.
Since their existence the UFC's media ranking have been just horrible. For one, no recognizable media members have chosen to participant and the panel has been twiddled down to 20 or so fringe people who cover the sport of human cage fighting.
A whole lot of AM radio DJs, homemade blog writers and casual TV personalities now decide the fates of UFC fighters who use rankings in contract negotiations as well as for title shot requests. Will Weidman's use of the UFC media rankings get him a title shot versus Bisping at the UFC's first show in New York? Why is Weidman trying to take Hendo-Bisping 2 away from us?
When will the UFC media ranking be burned to ground and rebuilt into honorary statues of UFC matchmakers Joe Silva and Sean Shelby reading from their own personal UFC weight class top tens?
Wait, so the champ wants to fight the 13th ranked guy next? What the heck is going on here?! @bisping pic.twitter.com/XJJsVmzp0Y

— Chris Weidman (@ChrisWeidmanUFC) June 15, 2016