Have you ever tried to type while sitting under 12 blankets, with a bubble coat on, two pairs of knee socks and a scarf and gloves? Its not that easy. Maybe if my brain hadn't been consumed with UFC 111 I could have remembered to pay my gas bill and I could be sitting here typing in a comfortable 72 degree house and not an icebox. Maybe I would have enough money for a plane ticket to chill with Bauzen cageside tonight if I hadn't had to pay that deposit to get my gas turned back on. Maybe I would have remembered to call my Dad on his birthday yesterday too. Damn you and your mind control UFC 111.
Matt Riddle vs Greg Soto
I never like Matt Riddle's hair. Greg Soto wins via better haircut.
Palhares vs Drwal
Wow, Palhares is looking good at weigh-ins. My nose is cold, maybe I need a ski mask, too. Palhares for the win.
Wallace vs Hamman
I was so cold I just went and put on another pair of knee socks and missed this weigh in. I'll just throw a name out there-Hamman.
Almeida vs Brown
I lurve Matt Brown. He looks pissed off at the world. I like to picture him mean mugging and eating a bowl of lucky charms. It just seems twisted to eat happy rainbow colored marshmallows while looking that pissed off. My brain likes random, twisted stuff. Anyway, yeah Matt Brown…for sure.
Nate Diaz vs Rory Markham
Wow, Nate Diaz is awesome. He gives the best face off poses, never stops rocking the mean mug, loves the middle finger salute and is equally fond of completely overusing the word 'f*ck'. I feel a kind of connection with him thanks to his ability to use the F word as a pronoun, noun, verb and adjective all in one extra long run on sentence. That's my kind of dude right there. Diaz wins.
Miller vs Bocek
I know Miller's a hometown Jersey boy, but I thought Bocek's jiu-jitsu was insane last time he fought…and sometimes you have to support a ginger. They need love too. I'm picking Bocek.
Fitch vs Saunders
I like Fitch and I like Saunders. I just think Saunders knees are going to be too much for Fitch. That and I want to say 'Killa B-Wu Tang Shaolin style' for the win.
Pellegrino vs Camoes
Because I just want to see Pellegrino pull off an ABDC breakdancing move at the end of the fight. Pellegrino.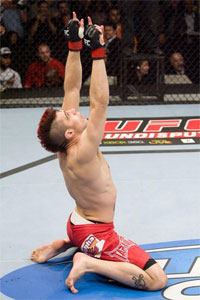 Mir vs Carwin
This is a tough one, but Mir is looking ripped and ready at weigh-ins. I've been back and forth with this but I think I'm settling on Mir.
GSP vs Hardy
I know as a woman I am supposed to swoon over GSP and wish I could be the person rubbing Vaseline all over his body, but I am just not that into him. He's a stellar athlete but I like my boys a little more rough around the edges. I like British accents and tattoos too. I'm going to risk being burned at the stake by all the chicks that want to have GSP's babies and pick Hardy.