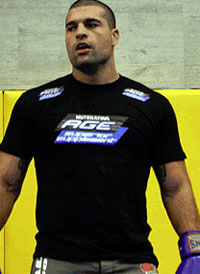 This morning I woke up wearing sunglasses on a folding lawn chair in my friend's garage, missing a shoe and the word 'DUCK' written on my forehead. Everyone else is still passed out in various locations and as a matter of fact, there's someone in the fetal position on the lawn. Apparently it was a rockin' party, I just don't remember it thanks to way too many margaritas. I have no idea why 'DUCK' is written on my face, but I need to find some Advil, coffee and my shoe before I figure that mystery out. I'm rewatching weigh-ins and doing my picks while I snap pics of the drooling person laid out on the lawn.
Doerksen vs Lawor
I was just going to do the PPV card this time, but Tom Lawlor's 'Dan Severn entrance' was too rawesome not to mention. Hysterical. I have to pick Lawlor to win based on best weigh-in performance, ever.
My Pick: Lawlor
Stout vs Stephens
I'm still trying to find my shoe so I can walk over to CVS and get some wet wipes to clean this ink off my forehead. I guess I'm going to pick Stout on this one. The Canadians seem to like him…
My Pick: Stout
Cote vs Belcher
Damn, 18 months is a long time to be out, that's some major ring rust…still Alan Belcher's giant Johnny Cash tattoo and Batman underoos just don't do it for me.
My Pick: Cote
Kimbo vs Mitrione
Oh wow, Mitrione's brand of crazy really cracks me up. Its really tough to beat that level of crazy but Kimbo has the power of the beard on his side and he looks pretty pissed off. The Canadians really are digging Kimbo at weigh-ins too, he probably received the loudest response.
My Pick: Kimbo
Kos vs Daley
Daley walked out looking like the grim reaper. He also is wearing shades indoors. This is not good, you know the whole curse of wearing shades indoors. Wait! Koscheck just walked out rocking those horrid shoes we showed you last week. Those things definitely trump the indoor shades curse.
My Pick: Daley
Rua vs Machida
The rematch we've all been 'cryassing' about since UFC 104. Its finally here and I have finally found some Advil and a red marker is in the hand of my friend, who's completely passed out. Vengeance is about to be mine…and I think Shogun will have his too.
My Pick: Shogun