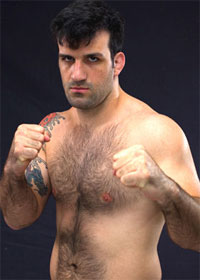 I was going to let my letter stretchers make my UFC 109 picks but they don't talk much so I guess I'm on my own tonight. If you don't know what letter stretchers are then you haven't been keeping up with the MiddleEasy crew over on Twitter and you my friends are missing out. On to the UFC 109 picks…
The Mexicutioner Beltran Vs Rolles Gracie
I know the Gracies aren't known for their standup, I realize "The Mexicutioner" is a pretty mean sounding nickname, but I actually made a squealing noise that sounded like a high pitched, "YEEEEEEEE!" when Rolles Gracie walked out for weigh-ins so I think that pretty much says Rolles for the win.
My Pick: Rolles Gracie
The Crowbar vs Tim Hague
We all know how I feel about douchey hair. Well The Crowbar is sporting hair that reminds me of what Jersey shore in Scandanavia might look like. That's an automatic loss for me.
My Pick: Tim Hague
Brian Stann Vs Phil Davis
This is a not a bad looking match. The letter stretchers might have perked up for this one.
My Pick: Brian Stann
Phillipe Nover vs Rob Emerson
Aww I really like Nover and was hoping to see him make a comebac, -he even came out during weigh ins rocking a fly Jaco Clothing hat, but then he messed with the universal laws of nature and slipped on a pair of sunglasses momentarily while on the scale. Nover's facebook picture indicates he might not be humanoid like the rest of us so there is still a slight chance that he can beat the shades indoors curse and win the fight. I just don't know though, you really shouldn't try and go against the laws of nature.
My Pick: Rob Emerson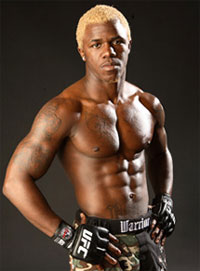 Ronys Torres vs Melvin Guillard
I have to pick Melvin on this one because he's like family to me. He is the cousin of my friend Amy's husband who I've never met in person and lives in Houtson…I know from an Internet message board so that makes him like my family, right? Family always comes first, folks.
My Pick: Melvin Guillard
Justin Buchholz vs Mac Danzig
Now we are really getting to the good stuff. I have a crush on Mac Danzig and I would definitely like to let him put his bratwurst and sauerkraut with my weinerschnitzel and have a tasty german dinner. Wait, he's vegan so I guess he might not be down with any German style meat packing. Boo. Oh well, I am going to at least believe he's got his head in the fight and will win it this time.
My Pick: Mac Danzig
Frank Trigg vs Matt Serra
Wow, Frank Trigg has hair! Who even knew? I've got to go with Matt Serra on this one. He makes me think of Ronnie from Jersey Shore and Ronnie is no joke when it comes to beating down spray on tanned dudes with nail polish and "tramp stamps".
My Pick: Matt Serra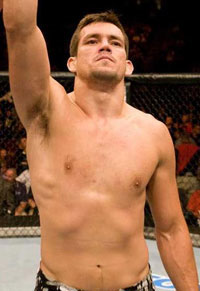 Dan Miller vs Demian Maia
Demian Maia because I want to see a repeat of the triangle choke he submitted Chael Sonnen with back at UFC 95. Although it might not be as nice since he won't be doing it to Sonnen this time.
My Pick: Demian Maia
Paulo Thiago vs Mike Swick
Mike Swick is so nice to look at. His face looks like it would nestle nicely amongst the letter stretchers. Paulo Thiago not so much. He looks eerily similar to that cranky Sam the Eagle from the muppets. Sam the Eagle is pretty hardcore (for a muppet) and Paulo Thiago is too. He's a cop in Brazil that beats down druglords and thugs as part of his MMA training. That's even more hardcore than looking like Sam the Eagle.
My Pick: Paulo Thiago
Chael Sonnen vs Nate Marquardt
I think Sonnen has spent too much time campaining for the Republican party the last few weeks and not enough time preparing for the totally ghey BJJ (you can't see me, but my eyes are rolling out of my head right now) Nate Marquardt is going to put on him.
My Pick: Nate THE GREAT Marquardt
Mark Coleman vs Randy Couture
This matchup sort of makes me feel like I'm watching my Dad and my Uncle get drunk in the backyard starting a drunken fight over who finished off the last of the Miller Genuine Draft. Something tells me much like that backyard brawl would have been, there won't be a whole lot of slugging and landing going on. I predict a 'hug-a-long' fest at the fence. I'm going to pick Randy just because he's the stronger hugger.
My Pick: Randy Couture