After enduring thirty days of watching a multitude of men turn themselves into ZZ-Top during something called "No Shave November", I've had about all I can stand of bad hair and overly hairy men. The guy that made my pumpkin spice latte at Starbucks yesterday even gifted me with a nasty stringy brown hair on the lid of my drink. How opposite of nice of him! I understand winter is upon us, but you guys are men, not grizzly bears. So, I'm issuing a personal jihad against body hair with my picks this time. Hairy fighters will not get my picks for UFC 124.
Let's start with the free prelim fights on UFC.com:
Dustin Hazelett vs Mark Bocek
Amish beard power versus some ginger jiu-jitsu. Not only is Hazelett mocking my body hair aversion with that beard, but he also really looks like he needs to hang with Roy Nelson and start adding a few double whoppers with cheese to his diet. He looked like bones with a beard at the UFC 124weigh-ins. I'm picking Bocek for being so clean shaven.
My Pick: Bocek
Dan Miller vs Joe Doerksen
I was going to pick Dan Miller on this one, but he is slightly hairier than El Dirte. Also, El Dirte has home octagon advantage so he'll need to make sure that all those Canadians drunk off Molson Triple X don't go on any angry drunken rampages around the arena if he loses. Molson Triple X is some powerful beer, I was the getaway driver in many a Buffalo, NY bar fight that can be attributed to Molson. El Dirte wins by a hair. (I am fully aware of the unbearable lameness of that pun right there)
My pick: Doerksen
Now the main card:
Charles Olivera vs Jim Miller
Looks like Dan Miller's brother, Jim, has taken 'No Shave November' into 'Don't Shave December' and I do not approve. Olivera looks like he doesn't even grow hair anywhere on his body. He is obviously down for my fight against unnecessary body hair and could easily be the poster child for Brazilian waxing. Olivera's hairless body might be part of the secret to his slick jiu-jitsu. I think he will take out Jim Miller with the quickness.
My Pick: Olivera
John Howard vs Thiago Alves
Doomsday has the baddest haircut in the octagon and after watching him work the ropes in his video blog from August, it's somewhat difficult to even look John Howard in the eyes anymore. It's the sort of look when men's eyes are automatically drawn to cleavage. You just can't help but look at it. Despite whatever distracting stuff Doomsday has going on in his briefs, he is hairier than Thiago. Unfortunately, Thiago came in on weight this time so there was no potential for naked towel slippage. Damn. Thiago is so hairless that you wouldn't even need oil to give him a full body massage. Thiago wins, I don't even think he has armpit hair.
My Pick: Alves
Joe Stevenson vs Mac Danzig
Two TUF winners that aren't overly hairy. Normally this would be an easy pick for me because I really like Mac Danzig, but he grew some hair that makes him look kind of like Shaggy from Scooby Doo — now I'm all confused. Joe Stevenson has some beardage going, but it's controlled. So it boils down to what is more tolerable: 'mini-controlled beard' or 'strange hipster shaggy hair'. Today I'm going with the mini-beard for the win.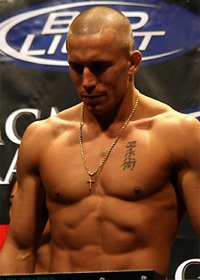 My Pick: Stevenson
Sean McCorkle vs Stefan Struve
These two guys are pretty hairless, Stefan seems to be angrier and hungrier for the win. I think this one is his.
My pick: Struve
GSP vs Kos
I know many of you want Kos to win because the betting odds guarantee you a nice payout if he does. I'm sorry but GSP must win because if he doesn't I fear complete madness will ensue in the streets of Montreal. Entire villages might drink cyanide in mass suicides or the French-Canadians might become so angry that they storm the border of Vermont and begin raping and pillaging the 347 people that actually live in that state. He also wins because GSP clearly supports my personal jihad against body hair and bad hair in general. Unlike Kos, who chooses to have what appears to be the aftermath of urine-stained poodles fornicating on top of his head.
My Pick: GSP