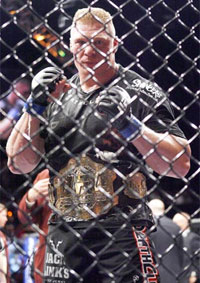 It feels like I'm a member of an elite group of MMA geeks who spaz out on internet memes so unknown that I'll probably never get laid for the rest of my life. Sorry about that guys. Let me enlighten you on where exactly all of this 'frate trane' nonsense originated from. Two years ago, a guy named jkdandforrestfan created a thread on The UG entitled 'Brock Lesnar = unstoppable frate train' shortly after Lesnar put that brutal pounding on Heath Herring. The word 'freight' was so obviously misspelled, yet the author insisted that everyone was just 'nitpicking' over his 'little typo'. For those of you who failed 3rd grade English, 'Freight' is nowhere near 'Frate'. It's like the dude hit the 'ate' key and accidentally pushed enter. I guess you had to be there (or just be an incredibly vigilant MMA geek) to understand.
Now that I've seen the 24th replay of Brock Lesnar stealing Shane Carwin's consciousness via arm-triangle choke, you have to sit back and wonder…can anyone beat this guy? Maybe a better question is, is this even a guy? Dude is like the level boss on Double Dragon 2. Brock's neck and chin is connected by a forcefield of hardass that is impenetrable by the normal human fist. All that extra meat connecting his head to his shoulders renders him impossible to KO. So T'ing off at his head will only make him aware that you're in the cage with him (which can never be a good thing). So that leaves, submissions? Well it's happened before but when you have a 265lb dude introducing his right fist to your left cheek, options are pretty limited.
Cain Velasquez? He got rocked by Cheick Kongo a couple of times but he eventually won the fight by taking advantage of his wrestling. He's on tap for his ride on the frate trane next but Brock Lesnar just seems like a larger version of Cain. Since I haven't wrestled a single minute in my life, I'm going to resort to it's nearest relative: making a grilled cheese sandwich. When it comes to that, I'm the world champion…of the world.
Props to Shane Carwin on putting his hands on Brock Lesnar early in the first round but…my god this frate trane.