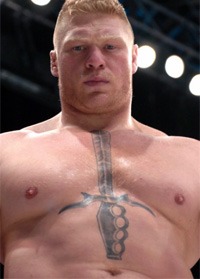 And it seemed like just yesterday I showed you guys the official UFC 106 promo video. Oh damn, that was today and…oh damn, Brock Lesnar has pulled out of his UFC 106 title defense with Shane Carwin. Apparently Lesnar has been sick for nearly an entire month and he's forced to remove himself from UFC 106. Kevin Iole from Yahoo! Sports breaks it down:
UFC president Dana White confirmed the news to Yahoo! Sports. White said Lesnar has been ill for more than three-and-a-half weeks and unable to train. With the bout at UFC 106 less than a month away, Lesnar was forced to postpone the title defense.

"He said he's never been this sick in his life," White said. "He said it's been going on for a long time and he just hasn't been able to shake it."
Looks like the that nuclear detonation at Mandalay Bay is going to have to wait a little longer. Now comes the fun part of finding a replacement for Brock Lesnar (can we get a little Gilbert Yvel love in here?). [Source]
Update: Griffin vs. Ortiz will headline UFC 106.