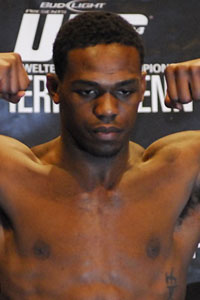 The minute Jon Jones pulled that crazy underhook-backflip of Stephan Bonnar at UFC 94 everyone knew why people called him 'Bones'. Actually, no one knows why they call him Bones. I have a friend named Jon Jones and we call him bones…but there never really was an explanation. I guess we were just sort of lazy that day. If you saw the Jon Jones I know, dude is the direct opposite of 'Bones'. He's more along the line of 'Big Boned'. Just kidding, I love the guy…especially when he's yelling at three in the morning because two prostitutes stole my friend's iPod (true story).
After his Hamill loss, Jon Jones said that he was only operating at 20%. For those of you who don't understand how amazing that is, imagine getting a 20% on your high-school Algebra mid-term, but that 20% is so amazing that your teacher cowers in the corner and cries in awe at your potential. I imagine it would be the same feeling Jesus would have felt if he screwed up a bookcase when he was a carpenter. Before the whole…other stuff.
Bones stepped in the octagon, settled into his 'teradactyl-like' stance and made every action, movement, strike and takedown look as simple as 3.14. The real question that we should all be asking is whether Jon Jones is approaching 'Frate Trane' status. Matt Hamill temporarily slowed down that transformation at the TUF 10 finale by winning via disqualification which makes him the only person in the history of MMA to snatch a win over Bones. We know that Shogun is sidelined until 2011 with an injury, but judging from tonight, Bones looks to be in perfect health. We just may be on the verge of a UFC light heavyweight interim title fight with Jon Jones on the opposite end of…someone out there at 205. Props to Bones on his extraordinary win and did anyone catch the name of Jones' walkout song?