I was amused, at first, by this strange world tour of shame that Bob Sapp has been venturing on since roughly 2010. Then my amusement turned to anger 'he's making more money losing than some winning fighters in the big leagues…who are trying'.' But now I kind of want Bob Sapp to keep losing. How much farther can this go? Who are these promoters? How are they pouring out of the woodwork to book Bob Sapp? Who is Bob Sapp's manager, clearly the savviest negotiator on earth right now? Could Bob Sapp keep up this pace of what should be twelve losses this year, for a few more years?
I hope so. I root for the Cubs to lose every year despite being a Chicago native. What are the chances of seeing such landmarks of underachievement being repeated? Bob Sapp, may you lose for years to come.
The Bob Sapp world tour stopped in South Korea sometime yesterday, where he took on much smaller Road FC fighter Jong Dae Kim. We have the video, and a photograph of Bob Sapp eating McDonalds as a warm up to the fight after the jump.
Thanks to Facebook friend Boyd Gypsy Clark from Phuket Top Team for posting Bob Sapp's pre fight warmup on Zeus' Facebook page.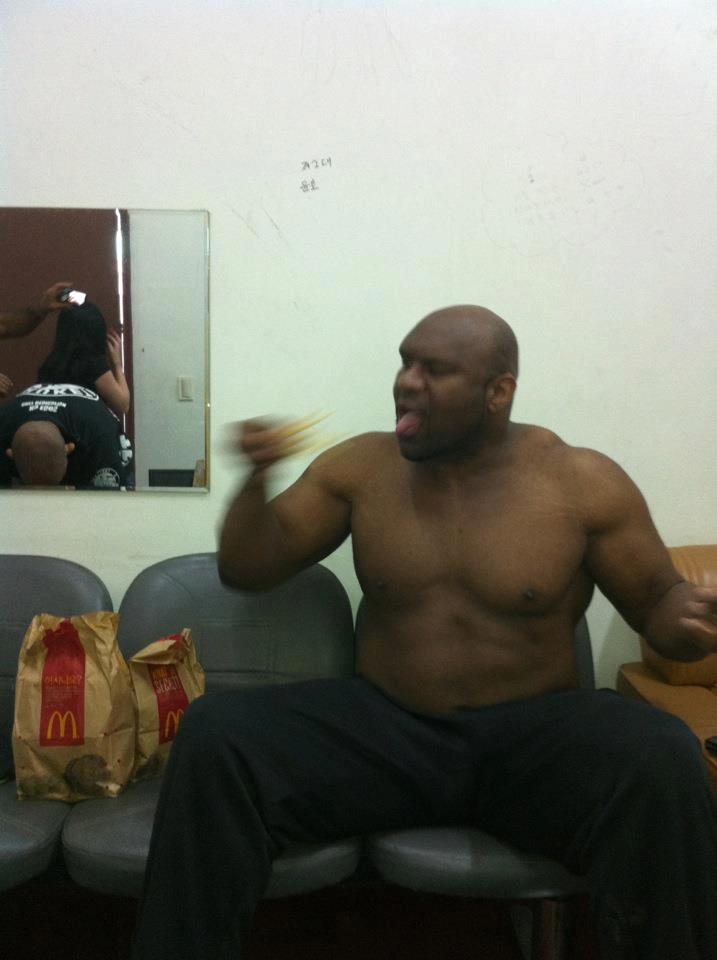 Here's the video.
[Source]