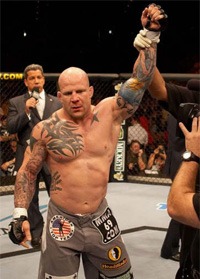 Am I the only one amped up for this bangemite fest tonight? We've been waiting for this ever since Bitetti announced they've signed Jeff Monson to scrap against Pedro Rizzo in July. Back then we thought 'Bitetti Combat' sounded like a finger-food eating competition. Now with the finalized line-up, it sounds like something that will eat your fingers…and overhand-right you in the nose just for the hell of it.
This card is more stacked than a 1989 Dolly Parton. That's my Michael Schiavello impression for the day. It only works if you shave your head and say it in an Aussie accent. The fight that really jumped up and Gonzaged us in the testicles was Jeff Monson vs. Pedro Rizzo. You may remember Monson from his first piece of published literature 'The Anarchist Cookbook'. Dude didn't write it but we definitely know he read it. Last year, Monson got in trouble with the law by spray painting a government building in Washington with the Anarchist sign and released it to ESPN Magazine. For a self-proclaimed Anarchist this sort of stuff is like an everyday thing…sort of like making coffee in the morning. Apparently, this thing called the 'US judicial system' wasn't really feeling it. Dude went to court, pleaded guilty for being friggin rawesome and the judge threatened to take away his passport so he couldn't fight in Brazil for Bitetti Combat. Luckily they didn't and we get to see the dude bang against Pedro Rizzo tonight. Fight! Magazine has Jeff Monson as the #5 ranked Heavyweight in the world (above Overeem, Rogers and Carwin) and most importantly, dude is sponsored by our buds at Jaco Clothing. We all remember Pedro Rizzo from taking an L to Gilbert Yvel via absolutely ruthless ground and pound (we were there, it was raw). I saw him in the airport the next day and the dude must be related to Claire Bennet because it look like he self-healed himself overnight.
Also on this card is Marvin friggin Eastman! The same Marvin Eastman who served Rampage Jackson his first lost in MMA! He's going up against Ricardo Arona! If your head just exploded out of excitement, we suggest you grab a some napkins and clean up the mess (it starts to stink after a while). Yes, Ricardo Arona! If you don't know Arona, just know that he's defeated Alistair Overeem, Dan Henderson, Guy Mezger, Jeremy Horn, Dean Lister, Wanderlei Silva and Ninja Rua. If you put a list like that on your resume, you probably won't get that job at McDonalds but you will get everything super-sized for free (they pretty much have to).
But that's not even it. The Reward Hunter himself, Paulo Filho, will remove his cut-off flannel and get in the cage with IFL veteran Alex Schoenauer. You guys have probably read on MiddleEasy (at least I would hope so) how Paulo Filho challenged Gegard Mousasi and said if he lost, he doesn't even want to get paid. Gegard Mousasi responded by calling Filho a 'little donkey' which had me shooting milk from my nose.
We also have Ninja Rua (yeah, the brother Shogun Rua whose parents were obviously Shinobi and Ninja Gaiden II) along with our dude, Eduardo Pamplona who has just been ridunkulously sick in the M-1 Global challenge this summer (dude hasn't lost a fight in two years and that was to Robbie Lawler). Pamplona also looks like he could be Tom Atencio's distant cousin. Glover Teixeira is even going to be on this card…the guy who KOd Sokoudjou in less than two minutes in WEC.
All of this is going down and…there's absolutely no way we can see it (unless you live in Brazil).
Be sure to listen to MMAscrapsradio.com tonight as they will be broadcasting live from Brazil. Nah, I'm just kidding. I love putting incredibly unrealistic expectations on those guys. Sort of like reheating a taco and expecting it to be good. You're just setting yourself up for disappointment.