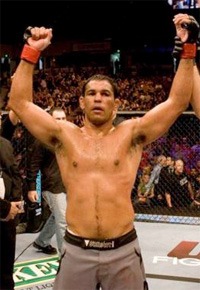 Sometimes when I wake up in the morning I have this undying urge to contact every eggnog distributor in an attempt to get Big Nog a contract in the dairy industry. The chances of me drinking more eggnog because Antonio Rodrigo Nogueira is on the carton is about the same as me running away in terror because Antonio Rodrigo Nogueira is on the carton. Imagine drinking something that's endorsed by a dude people call Minotauro. You're pouring a mythical creature in your glass, if your scalp is misplaced from your head via battle axe…then you can't say that you didn't see it coming. Antonio Rodrigo Nogueria is both a seasonal dairy drink often mixed with burbon as well as a guardian of labyrinths. Dude knows how to multi-task.
Now it looks like Nogueira's manager has confirmed that Big Nog will face Cain Velasquez and we're assuming the winner will be next in line to bang for the UFC Heavyweight belt. Tatame Magazine drops the knowledge:
Since the victory over Randy Couture at UFC 102, the Brazilian Rodrigo "Minotauro" Nogueira was rumored to fight the loser of the title fight between Brock Lesnar and Shane Carwin, but the postponement of the bout forced the UFC to change the plans. According to Sensei Sportv's blog, Nogueira's manager confirmed that the Brazilian will face the undefeated heavyweight Cain Velasquez at UFC 108, which takes place at January 2.
Big Nog being poured for UFC 108, let's just hope the injury fairy doesn't come by and smack Nog's immune system with some debilitating illness, Brock Lesnar style. [Source]