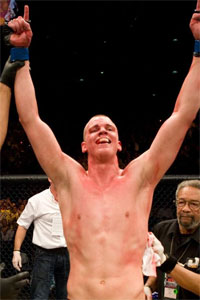 How is a baseball hat still a baseball hat when it's shaped like a duck's head? Ducks are the model for baseball hats. They don't get any compensation unless you call 'Sweet and Sour Sauce' something to be proud of. That was my way of making your head explode before noon. If you're still reading this, it probably didn't work. My bad. Let me give it another shot.
In an attempt to make your head immediately explode over your desk, Fighters Only Magazine is reporting that Roy 'Big Country' Nelson will face off against Stefan 'Tall Dutchguy' Struve at UFN 21. There, I hope that worked. My advice to you is slowly reattach your eyeballs to your head and read this snippet.
Dutch heavyweight Stefan Struve will be facing TUF10 season winner Roy 'Big Country' in his next fight, Fighters Only can reveal. The fight is set to take place at UFC Fight Night 21 in North Carolina and at least one of the fighters is understood to have returned a signed bout agreement.
Snippet is a word I reserve especially for Fridays. Everyone is pretty laid back so I can get away with using a slang term for 'a small piece of something'. For example, Snookie from Jersey Shore is a snippet of a life-sized human being. [Source]