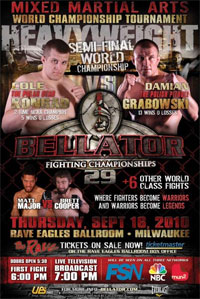 The title of this article may come as somewhat of a surprise to a few of you. The last time I proclaimed an event was the 'sleeper card of the year' before it actually occurred was Bitetti Combat MMA 4. I wrote the article as I frantically searched the internet for a live stream. For some reason, Bitetti chose not offer a live online PPV of the event despite the fact underground MMA fanboys were clamoring for the card. It was the first time in my career that I used the words 'bangemite' and 'Dolly Parton' in the same article, something that I will never be capable of doing again. After hours of googling, combing message boards and closing an innumerable amount of pop-up ads on blatantly obvious illegal stream sites, I managed to find a guy in Brazil that was streaming the event from his small TV. When the commercials came on, he would flip to a Portuguese dubbed version of Terminator 2 and everyone watching the stream would often miss about a minute of the first round. It was the best available option we had. If the stream didn't exist, I would never have been able to witness the return of Ricardo Arona and subsequently this epic backstage pre-fight video (not to mention Paulo Filho downing a Capri-Sun like the meaning of life was hidden inside it). Bitetti Combat MMA 4 happened on September 12th 2009. Today, September 16th 2010, Bellator 29 will be broadcasted live on Fox Sports Net and judging from every ingredient packed within this card, I sincerly believe this will be the sleeper card of 2010.
In just a few hours, the world will witness the first sanctioned MMA event in Wisconsin history. At Strikeforce: Fedor vs. Rogers, I met a few guys from Wisconcin Combat Sports and they shared stories of how they attended unsanctioned MMA events in barns packed to the brim with hundreds of avid MMA fans. Fighters would literally scrap in an open area with hay and corn meal on the ground to pad their falls. Apparently the Wisconsin MMA scene is so vast that events like this would happen weekly. Today, Midwest fighters can rest assured knowing that they will no longer have to compete alongside horse stables and pig troughs. It's real folks, and today marks another moment in MMA history which we will look back on when we have five great-grandkids, a fleet of flying cars and an undying urge to still play videogames in our golden years (your Xbox is never going away).
We also get to witness two undefeated heavyweights smash each other's heads with eloquent precision. Poland's Damian Grabowski will face off against Wisconsin's own Cole Konrad for a spot in the finals of Bellator's heavyweight tournament. Alexey Oleinik and Neil 'Goliath' Grove will also be banging it out to claim the other spot in the heavyweight tournament championship bout which should go down by the end of the year.
There's still a potpourri of fights worth mentioning, although for the sake of this article, I will only mention the fighter who I've shared pizza with in the hallway of a hotel lobby and (or) been in a dinner buffet line with at the Mandalay Bay Casino. Team Bodyshop's Brett Cooper will be facing off against Matt Major in a non-tournament middleweight bout. Brett Cooper will make you change the way you think about beards. That's a pretty large responsibility. Didn't mean to throw Brett under the bus like that. However, whatever bus that chooses to run Brett over will ultimately get demolished by the immensity of his Battle Beard. If Chuck Norris' beard is the Fedor Emelianenko of facial hair, Brett Cooper's beard would be like Jon Bones Jones. Of course, Don Frye's mustache would be like Don Frye's mustache.
It all goes down tonight at 7:00pm ET on Fox Sports Net (although you should really check your local listings as it varies from city to city).