Everything funny and mildly funny about Pat Healy has already been tweeted to us for tonight's 'Sh*t people tweeted @MiddeEasy during UFC 159.' Literally anything I type in this article is inferior in every way to what you guys threw at us tonight. I mean just look at this — dammit this is something that I would write: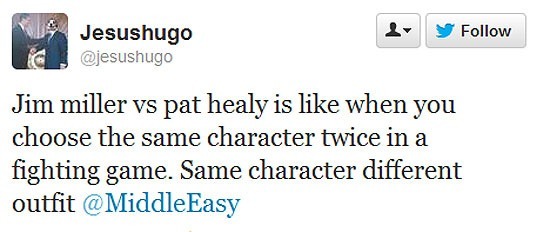 If everything is in order and we're all 'mentally stable' enough, by the end of the night we'll try our best to get out 'Shit people tweeted @MiddleEasy during UFC 159.' Although, judging by how the night is going — that may not be the case. Either way, we must give all available props that we have stored directly to Pat Healy for being the second person in history to finish Jim Miller.
Now while we do know that Healy made Miller's mouth into a blood volcano seconds before he finished him, we don't have a .gif of it. I know, how can we lure you in with an awesome headline when there's no visual proof of it. Well hopefully we'll be able to correct that at some point tonight.
Update: Props to Jar of Flies for the .gif!