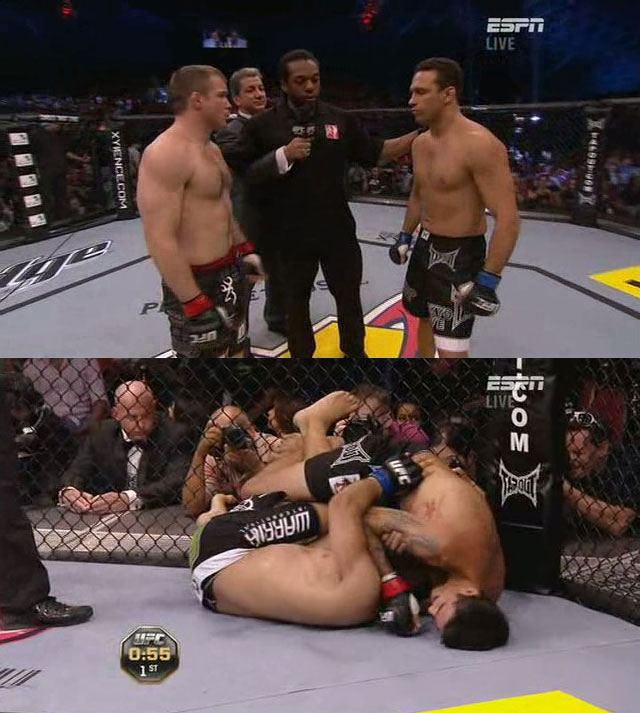 If I had a dollar for every time I typed 'Silva' the past couple days, I could probably pay off one of the many parking tickets I owe the city of Los Angeles. Instead, I will store them away in some cabinet and hope they magically disappear…since that's what everyone does. So the new Anderson Silva allegation for today is that his gloves were not taped up at UFC 112. A few people pointed this out to me so let me struggle to remember all their names. Scream13 from UnfilteredMMA, Rachel from MMAHotstuff and Josh from MMAValor slapped me in the face late last night with the accusation that Anderson Silva's glove were not secured with tape.
Usually fighters have either red or blue tape in order for judges and officials to know which corner each fighter belongs to. An official from the athletic commission is normally required to observe a fighter as his hands are wrapped and once the glove has been applied, tape is wrapped around the bottom of the glove and the official literally signs the tape to denote that everything has been inspected. Here are a couple examples of taped gloves at UFC 112:
Now for some reason, Anderson Silva's gloves were not taped. Seriously. I didn't believe it myself until I actually watched the bout again. Anderson Silva was supposed to have red tape around his gloves. Nothing is there. The white material you see at the bottom of his glove is his hand-wrap which extends well into his palm.