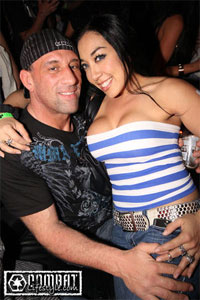 How refreshing is it when good things actually happen to good people? We could post fifty 3-second knockouts and they wouldn't equal the absolute rawesomeness that is MMA Elite paying for Mark Coleman's six-figure hip surgery after The Hammer's insurance lapsed. We hope Mark recovers and employs his new hip on a vast number of new adventures. He'll be part machine now, and one step closer to being an actual T-1000 series Terminator, which only makes him more dangerous. On the subject of movies, the last time Layzie and I met up with Coleman in Mandalay Bay, we discussed life, love and fighting Fedor. In the article, this comment was posted:
I am a movie producer in Hollywood. I would like to buy the rights to a Mark Coleman biopic starring Vin Diesel. It would be a dramedy on a smallish budget in the style of The Wrestler. Get back to me if there is any interest. Thanks for your time.
For all we know, that 'Producer' could be Ted Malakhov's basement-dwelling cousin, but regardless of location or existence, dude has a point: The Mark Coleman movie needs to be made. I would watch it. Multiple times, even.
Until "The Godfather of Ground and Pound: The Mark Coleman Story" is conceptualized and created, watch this emotional interview discussing the removal of wrestling from the Olympics and MMA Elite's generosity.
For some reason I have this insatiable urge to buy an MMA Elite shirt…
[Source]