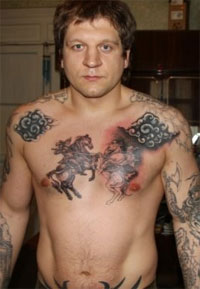 The Fedoreem saga began in March after Ubereem did the same thing Fedor did to Brett Rogers, only faster and with infinitely more swagger. At the time, Fedor chose to pursue a fight with Fabricio Werdum, a decision that ranks right up there with trusting my ex-girlfriend with the television remote. With Fedor recently calling out the Strikeforce champion and Ubereem's subsequent response that conveniently outlines why he feels M-1 Global is just trolling him, it seems like the potential of them fighting this winter are about the same chances of Nick Diaz losing a mean-mug contest to Phil Davis. Instead, a Polish MMA promotion called 'Strefa Walk' has listed Ubereem to compete against Aleksander Emelianenko on their website.
Bas Boon says the fight is currently in the negotiation stages, but in Poland, they tell you who you're going to fight and add it to their website on the official fight card before you actually make the commitment. To them, Alistair 'not saying no' is as official as him saying 'yes'. If he does refuse the fight, we hope Polish fans don't get angry and dispatch Mariusz Pudzianowski to throw a Volkswagen through Golden Glory's window. There are a lot of dangerous dudes in there and most of them walk around with sledgehammers destroying bicycles. [Source]
Here is a screenshot from Strefa Walk's website.