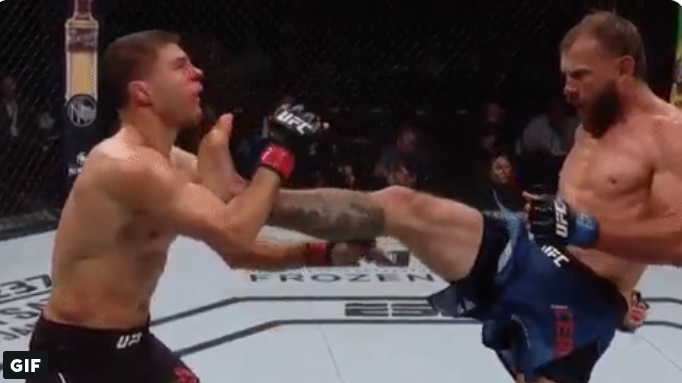 Following His Loss, Al Iaquinta Left The Octagon With Many Injuries
Earlier this month in the main headliner of UFC on ESPN+ 9 Al Iaquinta suffered a painful unanimous decision loss to Donald Cerrone in a lightweight contest. After the win 'Cowboy' proved everyone that he still has gas left in the tank.
But following a loss, Al Iaquinta left the Octagon with a bloody face and limping while walking backstage.
During his recent appearance on Ariel Helwani's MMA show, Al Iaquinta details what he has gone through during a fight with Cerrone and suffered a string of injuries. (h/t MMAJunkie)
"I broke my nose, I fractured my (right) orbital bone and had some deep bruising on my legs because of those kicks. (The bruising from the kicks) was brutal. I'm just finally starting to be able to move around. It took its toll. That won't happen again, that's for sure."
Al Iaquinta entered into this contest betting favorite and even played first two rounds very well. However, by the third frame, Cerrone switched up his style and hurled some heavy jabs and messed Al's face badly. By the fourth round, 'Cowboy' landed a front kick then another one that dropped Al on the canvas. In the last round, Al threw some solid blows, but Cerrone took over the stance and dropped 'Raging Al' on the mat and went for killing before the horn buzzed.
Al Iaquinta sums up that Cerrone hits him with some solid punches and due to of that he suffered a broken nose as well broken orbital. These injuries gave him a hard time during the middle of the fight.
"He hit me with a stiff jab that I don't know if it broke my nose, it cut my nose open," Iaquinta said. "He hit me with a bunch of shots so it could have been any one. He did cut me open; that could've been the one. I think it was somewhere in the third round where he caught me in the eye, the third or the fourth round. It definitely affected my vision, and it definitely was something tough to fight through. But it is what it is. I train to be in those situations."
Following the loss 'Raging Al' said he'll come back stronger. He also emphasizes the areas which need improvements but stating he isn't excusing for his defeat.
"I had every opportunity to win the fight, and I should've, but I didn't," Iaquinta said. "He beat the (expletive) out of me the way a veteran gets it done. He's good, man. He's good."