Despite what you've been told by your friend's friend, China is nowhere near the economic powerhouse that people assumed it would be at this juncture in history. The country is covered with vast megacities bigger than London or New York, and they're growing at the rate of 20 a year. The striking problem is these new cities are empty. They aren't even virtually empty — they are desolate. Massive ghost towns with apartment high rises, shopping malls, lavish restaurants — that are devoid of people. In fact you can traverse these cities on foot without seeing a single person — and some people actually have. The concept of 'if you build it they will come' is just not even close to accurate when it comes to China. The country is on the verge of the biggest real-estate bubble the planet has ever seen, and when that thing pops everyone will be getting hit with shrapnel.
In 2012, the average annual income for a family in China was $2,100 and analysts predict that it will be roughly the same this year. If you haven't wrapped your head around this jaw-dropping statistic — that's $5.75 to live off a day, for an entire family. A UFC Fight of the Night bonus could sustain 28 families in China for an entire year.
This is where Wu Haotian comes in. He's not quite a UFC fighter, but he's been an MMA veteran in the Chinese scene for years. The guy has fought sixteen times since 2007, with all of his bouts being held in China. Haotian is a member of China Top Team, the premiere MMA gym in the country, owned by Zhang Tiequan, the first Chinese fighter in UFC history. One would think after building a name for himself over the span of six years, literally fighting in every Chinese MMA promotion out there, Wu Haotian's training and living conditions would be just above average — at the very least normal. Unfortunately this just isn't the case.
Check out five photos captured by CRIENGLISH.com/Cui Chaoqun documenting a day in the life of Wu Haotian.
According to the article written by Stuart Wiggin, there are times when Wu Haotian can't afford the bus fare to or from the gym, so he just had to walk home, sometimes even when he was stranded in the rain.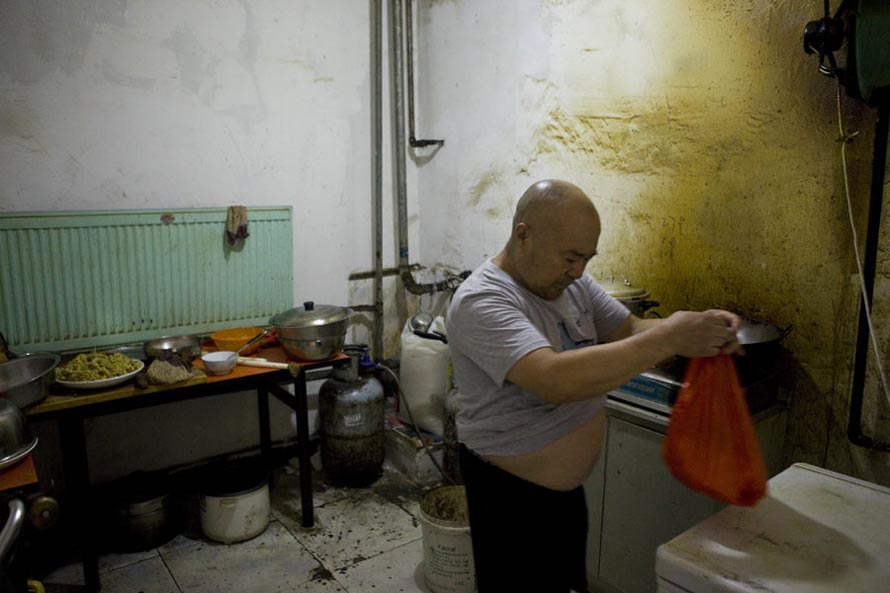 Wu Haotian says sometimes he skips breakfast in order to save money. When he does eat, it's made by China Top Team's chef in this kitchen.
There's no real place to eat in the small gym, which is located wedged near a subway, so Wu Haotian sits on a wooden stool just in front of the doorway of the gym, underneath his teammate's smelly clothes.
When he does get home, Wu Haotian rests in this claustrophobic room, which is only four square meters.
Occasionally China Top Team rents out two-minivans to transport their fighters to the gym. Here is a picture of Haotian patiently waiting to be transported back to his apartment. His parents don't even watch him fight.