The UFC Ring Girls
UFC ring girls walk through Octagon, carrying the sign which shows the number of the upcoming round, and beautifying the periods of rest. Oh, but their job is far from an easy one! It requires a strict diet, years of training, and an impressive level of dedication.
It is never easy to smile, maintain perfect posture and spread positive energy while all the eyes are pointed at you.
We've made the list of the eight UFC hottest ring girls that stood out more than the others throughout the history. Let's get to know these superwomen closer!
8. Chrissy Blair
Chrissy Blair earned her spot in the most hottest and famous UFC ring girls despite she is one of the skinniest. Her attractiveness is just amazing. She is 5 foot 7 inches tall and weighs 107 lbs. Chrissy likes to repeat that she is very excited to be involved in one of the biggest and best fight promotion companies in the world. Chrissy holds a degree in a Graphic Design and Fine Art and has a background in marketing and branding. She is born and raised in Florida.
She has never been a makeup lover in the early days of her life and started her modeling career after winning a competition her friends forced her to join. She is a fan of Ronda Rousey. Chrissy Blair signed her contract with Strikeforce in 2011. She has been on the cover of many magazines – more info available here.
She likes a man with a good brain, good smile, and a sense of humor. Chrissy likes also someone who can treat her in a different way than just picking her up and telling that she is sexy. She pushes for more and more love every minute, however, her goals are like a dream. Chrissy doesn't like discovering her dreams before they come true. She enjoys healthy food and TV shows Duck Dynasty and Family Guy. Her hobbies are drawing, painting, cooking, pilates, weightlifting, dance…
7. Brittney Palmer
Brittney Palmer is born in San Diego, California. She is 5 foot 6 inches tall and weighs 120 lbs. Known for her flat muscular stomach, Brittney is a member of UFC and a symbol of beauty for a long period of time.
Brittany Palmer has been on the cover of many magazines – C-Heads Magazine, Discover Hollywood Magazine, Complex Magazine, Most Magazine, AMB Magazine, Sugarcane Magazine… She is also a known TV face and she appeared in many famous events all around the USA. Brittany's trademark is her lovely smile. More info available here.
Brittney claims that her favorite things related to the UFC are traveling and fans. She dreams about the partner who will make her laugh and prefers ambitious and talented men with a strong sense of humor. Her career goals are related to the constant improvement and doing something she enjoys. Her favorite TV show is Entourage, favorite food sushi, and tapas, while she enjoys snowboarding, painting, and dancing.
6. Ali Sonoma
Ali Sonoma is born in St Louis, Missouri. She is 5 foot 7 inches tall and weighs 125 lbs. She comes from a large family and has Swedish, German, French, and Native American descent. Ali started her UFC career in 2006 when she appeared at UFC 66. She earned the first place in the first ever bikini division of woman's bodybuilding at the Arnold Classic 2009.
Ali started her modeling career with 16 years and she hadn't stop since. She likes sport and enjoys playing soccer, fishing, rollerblading, dancing, pilates, and shooting shotguns in her free time. You can call Ali an adrenaline junkie.
Her favorite musicians are Bob Marley and her favorite TV show is Sex And The City. She is definitively one of most hottest and famous UFC ring girls with a very attractive, sporty looking body. She is a huge lover of seafood – oysters, sea bass, shrimps…
Ali Sonoma is a model and an actress, and her aspirations relate to traveling around the world, getting a Master's Degree, helping with the victims of domestic abuse and working with charities. Ali was engaged to Diego Sanchez.
5. Logan Stanton
Logan Stanton is the skinniest UFC ring girl ever. She is 5 foot 10 inches tall and weighs 115 lbs. She looks like a twig that could be blown away in the split of a second and yet she is one of most hottest and famous UFC ring girls. She is most curvaceous and most photogenic UFC octagon girl of all time.
Logan Stanton joined the UFC in 2008 at UFC 92 and she was active until UFC 107. There were rumors that Logan Stanton and Natasha Wicks fought Arianne Celeste. Logan has focused on her modeling career since and she is very successful. She is a represented by Wilhelmina modeling agency. She has represented few good high profile brands – Roxy, Guess Jeans and many others. She definitively has one of the cutest faces that ever appeared in the Octagon.
4. Rachelle Leah
Rachelle Leah is born in San Carlos, California. She is 5 foot 7 inches tall and weighs 115 lbs. Her modeling career started when she was only 16 years old, as a hobby. When she reached 18, Rachelle got the job immediately after her photos were delivered to the agencies. She keeps her place among the most hottest and famous UFC ring girls for a very long period of time.
Her first serious contract was with FORD motor company, and then Rachelle appeared on TV, in Carson Daly show. She also acted a role in a movie "Vegas, Baby" with a fellow UFC legend Chuck Liddell. While she worked as a ring girl at a boxing match, UFC coach James Pena approached her and asked her to join UFC. She had her UFC debut in 2006, at UFC 48.
Rachelle Leah was on the cover of many magazines – Men's Fitness, AXL Magazine, 944 Magazine, Muscle, And Fitness… Her hobbies are wakeboarding, snowboarding, and workouts. Rachelle enjoys sushi and Italian foods. Rachelle's favorite TV shows are Friends, Sex And The City, Nip Tuck, and In Living Color.
3. Vanessa Hanson
Vanessa Hanson was born in Orange County, California. She is 5 foot 8 inches tall and weighs 115 lbs. Vanessa is a huge fan of action and fans, and these two things motivate her in this job. Vanessa has Norwegian, Mexican, and German descent. She started her sports career at 2011 when she saw US Open of surfing looks for female models.
Vanessa got a chance to appear as a Guest Octagon girl in 2011. As soon as she joined, her popularity was growing rapidly, both on social media and on the scene. She wanted to be a psychologist while in the college but her rebellious and exotic side led her to the world of modeling.
Vanessa Hanson is a lover of tattoos. She prefers intelligent men who are at least 6 feet tall with an active lifestyle and crude sense of humor. Her hobbies are outdoor activities, yoga, reading, and cooking. Her favorite foods are nachos, ice-cream, and seafood.
2. Amber Nichole Miller
Amber Nichole Miller is considered as the first modern UFC octagon girl. Amber is 5 foot 9 inches tall and weighs 125 lbs. She is born in Colorado. Amber had her debut at UFC 40 but left UFC four years later. She claimed on her MySpace that her problems with Rachelle Leah were one of the reasons, cause Rachel was repeating that "she can become a lot better friends with people who could do something for her career".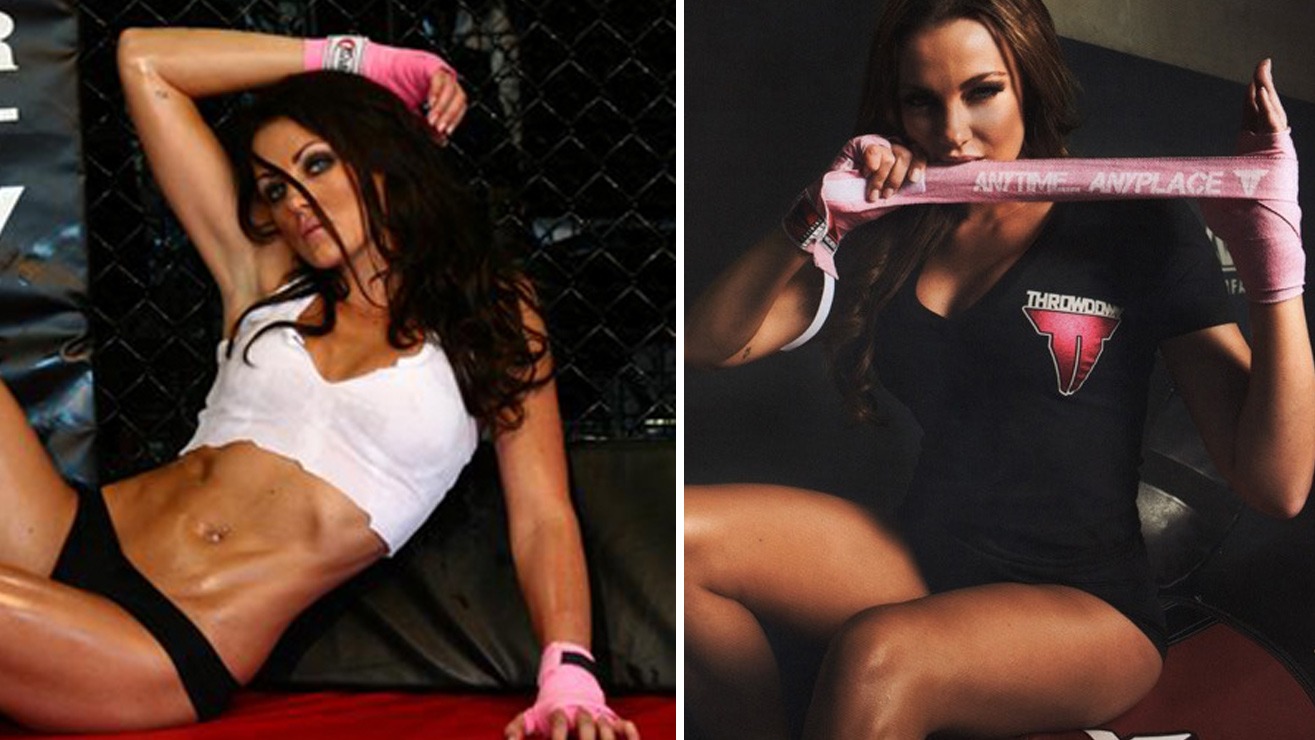 Amber got close to Tito Ortiz at one of the fights and became his girlfriend in November 2014, accepting his three children and keeping them as her own. She is one most hottest and famous UFC ring girls pretty much due to her dating with this fellow UFC fighter.
Amber started her modeling career when she was young, and she worked for MGM Mirage Resorts, a casino company from Las Vegas. She also appeared in multiple magazines – Muscle & Fitness, Oxygen, MAXIM… As an octagon girl, Amber Nichole Miller reached the covers of DXL Magazine, MMA Authority, and GQ.
In her rich career, Amber filmed many commercials and films. She also appeared in Ultimate Women Challenge, an event where some of the girls trained with famous UFC fighters and fought in the tournament. Amber is also acting in WAGS LA.
1. Edith Labelle
Edith Labelle is born in Montreal, Canada. She is 5 foot 8 inches tall and weighs 117 lbs. Edith Labelle appeared in the UFC in 2007, when she stepped in as a replacement for Ali Sonoma. She was active until UFC 100 when she was released. It is believed that Edith was drunk the night before the event and was too ill to appear and do her job. Edith Labelle claimed the reason was food poisoning.
Edith Labelle is one of the most hottest and famous UFC ring girls from Canada. Edith is currently an actor. She appeared in the movie "Recon 2023", then she got a role in "Heroes Of The North", where she acts a superhero. It is assumed she is still active in the world of modeling and hosting.
She is a fan of confident males who are not cocky, has a good sense of humor and who can keep an interesting conversation. Edith prefers males with an athletic body. Edith Labelle hates two-faced people. She dreams of an honest partner who doesn't pretend or act in a relationship. Her favorite restaurant is Ora in Montreal, where she enjoys seafood.
Join our list
Subscribe to our mailing list and get interesting stuff and updates to your email inbox.